Free Markets, Free People
I see some on the Left passing around this map showing that female mortality worsened in many counties between the early/mid-'90s and the early/mid-2000s.  (Meanwhile, male mortality only worsened in 3.4% of counties.)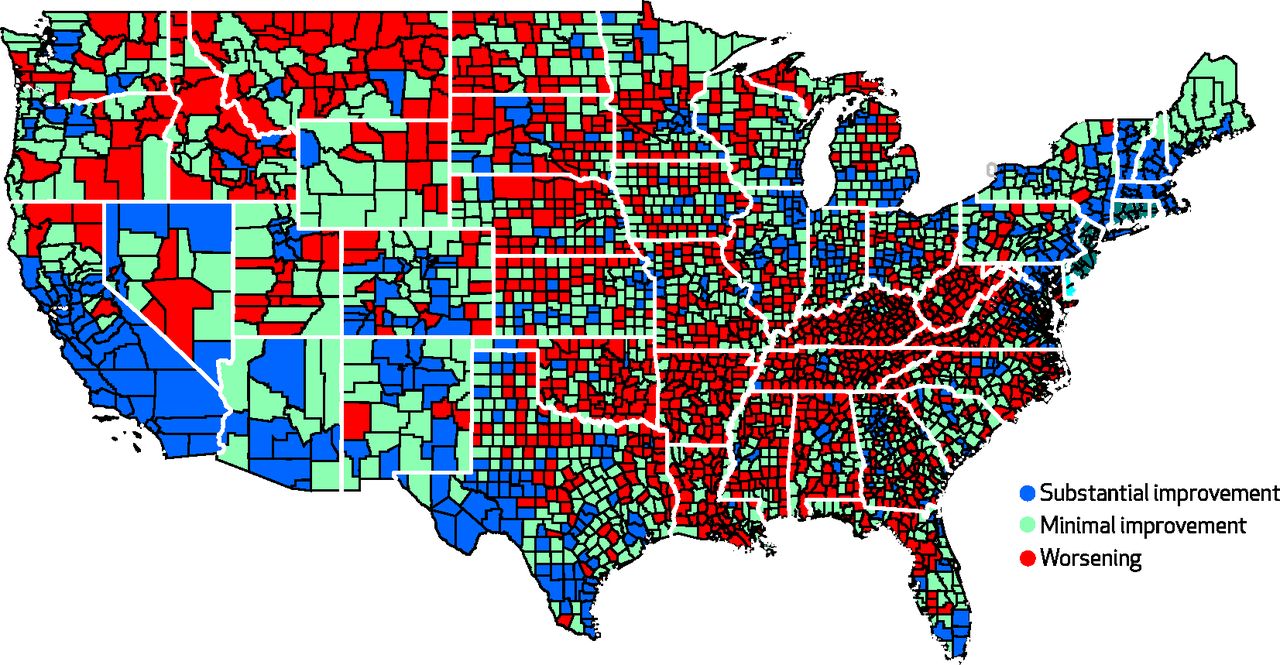 They noticed red states doing worse than blue states, and thought that this must, of course, be due to the Republican war on women™.
The mortality rate of females [worsening] in 43 percent of U.S. counties from 2002-2006 is eye-opening. This map from health researcher Bill Gardner helps you see where the worst results are typically coming from — red states and the redder parts of blue states.
It apparently did not occur to these partisans to control for a fairly simple, innocent phenomenon: old people just die more frequently than younger people.
Rural areas are aging faster as they have fewer kids who stick around – and it's mostly women left behind, since women have a longer life expectancy than men in the US.  So the mortality rate of a county could go up even if people are as healthy for their age as ever.
On the other hand, when you have an influx of young people (like in high-immigration counties), the mortality rate drops.
As evidence for this, look at the overlaps between the above map and two others:

More old people combined with fewer people in the prime of their health tends to mean a higher death rate, and vice versa.  It's not a perfect correlation, but at very least it's something that should be taken into account before blaming policy for deaths.

It certainly seems like less of a stretch than trying to blame the trend in female mortality on suicides connected to expanded gun ownership:
[A]nother study suggests that red states' high levels of gun ownership make them especially dangerous:

With few exceptions, states with the highest rates of gun ownership — for example, Alaska, Montana, Wyoming, Idaho, Alabama, and West Virginia — also tended to have the highest suicide rates.
How big of a stretch is this as a contributor to female mortality?  Two little hints:
And then there's this bold prediction:
With red states rushing to turn down the Medicaid expansion, these results will likely only get worse.
That's not outlandish as guesses go, since women consume two thirds of medical care in this country, but there's not an obvious nationwide relationship between Medicaid dependence and changes in women's mortality (though controlling for ethnicity might be a start):
Blaming the party elected by older people for higher mortality in the areas they govern is like blaming Democrats for young urbanites being more prone to violent crime than old rural farmers.  If you're not controlling for other causes, you're just trolling for partisan causes.
Over at RedState, Erick Erickson promoted a post in favor of legalizing same-sex marriage by "mjdaniels," a Christian conservative and long-time lurker there.  It's a long post that makes a number of good points, but he ultimately makes a number of rhetorical errors that give his fellow Christian conservatives an easy way out, and they did fix on those errors.  So it is that the people I see praising his argumentation with the fewest reservations are mostly not currently practicing Christians or self-identified conservatives.
Among those errors, the biggest was probably when he said, "Is Homosexuality a Sin? I. Do. Not. Care."  Christians are supposed to care whether others sin. The proper question is the duty others have to sinners. And behold all the RedState regular commenters saying that they're called to rebuke sin and lead sinners away from sin, out of love.  Many deny that enshrining these rebukes in legal exclusivity is tantamount to "hunting down sinful people," and they claim that it isn't them but same-sex marriage activists who are trying to "wield the power of the government to enforce my convictions on others."
I'd sorely like to see how his fellow Christian conservatives would respond if they couldn't focus on those errors.  In particular, I wished "mjdaniels" had better focused on something he only said in passing at the end of his post: that opponents of same-sex marriage were essentially calling for "casting the first stone at" this set of sinners.
It seems to me that when persuading Christian conservatives, one should be absolutely clear that the status quo is coercion – discriminatory taxes and inheritance rules, and denying the right to contract, all of which conservatives agree is state coercion when it's applied to them – and that when Jesus was challenged to support such coercion (stoning a woman caught in the act of adultery, according to Mosaic Law), he in turn challenged the teachers of law and Pharisees that the first stone should be cast by one who is without sin.  When no one would stone her, he said he would not condemn her that way either, and he simply told her to leave her life of sin.
If even Jesus doesn't think it's humans' place to punish violations of one of the Ten Commandments dealing with marriage, then it's an uphill climb for a Christian conservative to argue that it's their duty to uphold the use of such force based on moral strictures that are much less clear.
I find it baffling that conservatives think the government is capable of making a compact sacred by calling it a marriage, but there I see it in the RedState comments.  Do they teach their children that the state's refraining from coercion is an indication of societal approval of a behavior?  No; what is not prohibited is merely left to be governed by the other aspects of civil society (the family, the market, churches, social pressure, etc.) and, if Christians are correct, God's ultimate judgment.
Some of you have already seen this graphic.  It's what the United States woud look like if all 50 had the same population, with a few extra factors taken into account so that the borders still make as much sense as they can.
The extra factors include keeping almost all existing counties whole, aiming for compact shapes and not splitting up metro areas unless really necessary.  They also try to keep drainage basins together.  Click on the picture if you want to see the whole proposal.
The purpose of this exercise is to solve the perceived problem of unequal representation in the federal government. This way, not only do all U.S. senators represent the same number of people, but so do all members of the House of Representatives.  So each person has equal representation in the Electoral College as well, though of course some states would still be more competitive than others.  (Oh, and DC gets to drop the "Taxation Without Representation" license plates.)
This isn't intended as a serious proposal, but it mixes two things that I love because they both tug the mind out of its usual grooves of thought:
altered maps – When you first saw a simple "upside-down" map of the world, didn't it just demand to be stared at for a while?
visualizations of unusual political/social reform proposals – It's easy to think of the status quo as natural, and easier yet not to think of why things are quite the way they are; illustrating the world in a way markedly different from reality challenges the mind to justify the current order.  I suspect this has something to do with my enjoyment of sci-fi and historical what-ifs; instinctually turning toward such questioning may be a common trait among libertarians.
I try not to be too hasty in throwing out the current order; Burke and Hayek had useful insights about the limits of knowledge and reason.  So I haven't adopted this reform proposal, but it has been fun thinking about it.  I even spent part of today lightly crunching the county-level numbers from the U.S. Senate elections since 2008, just to see how it would affect the balance of power there.  (I still haven't gotten around to checking how it would affect recent presidential elections.)
But beyond the electoral reform, you can spin your mind for hours about the economic and cultural consequences of following these simple and (each taken in isolation) sensible algorithms.  The artist who created the map asked people to "take it easy with the emails about the sacred soil of Texas" – though I do wonder whether the four senators from Dallas-Fort Worth and the greater Houston area would be very different from the senators Texas usually elects.  What else jumps to mind?
This is going to a lot of trouble to ensure that a voter in Billings has the same level of representation as a voter in Cheyenne, and that a Californian has equal say in the Senate as a Rhode Islander.  But maybe all that trouble from such simple rules is why it's so ripe for speculation.
One of the most useful things I've learned about communication is the importance of stating things plainly and concretely.*  But thinking about that lesson frequently makes politics maddening.
Euphemisms are the health of politics.  If a government really wants to get away with murder, even secrecy can be less useful than making that particular murder sound unremarkable, justifiable, sensible, or even dutiful.
What if people could easily function with much less sleep?
Jon M at Sociological Speculation asked that question after observing that "new drugs such as Modafinil appear to vastly reduce the need for sleep without significant side effects (at least so far)." At extremes, as Jon M noted in a follow-up post, modafinil allows a reduction to 2.5 hours a night, but "the more common experiences seem to be people who reduce their sleep by a few hours habitually and people who use the drugs to stay up for extended periods once in a while without suffering the drastic cognitive declines insomnia normally entails."  In fact, alertness is not the only reported cognitive benefit of the drug.
The US brand of modafinil, Provigil, did over $1.1 billion in US sales last year, but for the moment let's dispense with the question of whether modafinil is everything it's cracked up to be.  We're speculating about the consequences of cheaply reducing or even eliminating the need for sleep for the masses.
If I can add to what's already been said by several fine bloggers – Garett Jones at EconLog on the likely effect on wages, then Matt Yglesias at Slate sounding somewhat dour about the prospect, and Megan McArdle at the Daily Beast having fun with the speculation – the bottom line is that widely reducing the need for sleep would be a revolutionary good, as artificial light was.
For a sense of scale, there are about 252 million Americans age 15+, and on average they're each awake about 5,585 hours a year.  Giving them each two extra hours a night for a year would be equivalent to adding the activity of 33 million people, without having to shelter, clothe, and feed 33 million more people.
Whatever objections critics have, sleeping less will be popular to the extent that people think the costs are low.  For all the billions of dollars spent trying to add years to their older lives, obviously people would spend more to add life to their younger years.  Who ever said, "If only I'd had less time!"?
Consider that the average employed parent usually sleeps 7.6 hours each workday.  He spends 8.8 of his remaining hours on work and related activities, 1.2 hours caring for others, and 2.5 hours on leisure and sports.
If he spends more time working productively (i.e. serving others), that's good for both him and society.  The time and effort invested in birthing, educating, and sorting people for jobs is tremendous, so getting more out of people who are already born, educated, and sorted is just multiplying the return on sunk costs.
That's a godsend for any society undergoing a demographic transition after the typical fall in birthrates, because aside from hoping for faster productivity growth, the specific ways to address having fewer workers per retiree – higher taxes, lower benefits, more immigration, or somehow spurring more people to invest in babies for decades – are unpleasant or difficult or both.
And if he uses extra hours to pursue happiness in other ways, that's generally fine too.  A lot of people may simply get more out of their cable subscription. Others will finally have time for building and maintaining their families, reading, exercising, or learning a skill.
Yes, once a substantial number of people are enhancing their performance, others will likely have to follow suit if they want to compete.  But then, that's also true of artificial light and many other technologies.  If people naturally slept only four hours a night and felt rested and alert, who would support a law forcing everyone to sleep twice as long, cutting a fifth of their waking hours so that everyone would slow down to the speed that some people prefer to live their lives?
I don't think most people have such a strong presumption in favor of sleep.  We like feeling rested, or dreaming, but not sleeping as such; a substantial minority of Americans sleep less than advised despite the known costs, and so reveal their preference for waking life over oblivion.
I already mentioned that marriage, kids, and a mortgage are very strong indicators of conservatism.  Here's a straightforward causal explanation: when you're invested in something, you don't want it to be taken from you, and you're skeptical of starry-eyed meddlers doing anything that might threaten it.  Probably the best thing done for the cause against gun control was teaching others how to use and maintain a firearm: once people own one, it sharpens the mind to cut through any argument for taking it away.
But a gun is a small investment compared to a committed and intimate relationship, custody of children, and homeownership.  A dollar taxed is one that you can't spend on your family when they want something, a dollar borrowed is one that your kids will pay back, and that meddler on TV is rolling the dice with a major part of your life.
In the case of immigration, Hispanics are already primed to be conservative because they're already invested.  With gay marriage, you have a group trying awfully hard to get more invested.
The conservative argument for embracing gay marriage is that marriage seems to be a fine institution that benefits even people who can't have children together, and that it may strengthen the institution and the country to expand the institution so that a nontrivial minority of the population is on the inside trying to protect it rather than on the outside where their exclusion leads to thorny political issues of respect and tribalism.
Another conservative argument is that if gay marriage is politically inevitable, conservatives should proactively move through legislation to ensure that it goes smoothly without infringing on other freedoms (like those of association and contract), rather than allow this to play out entirely in the courts or in a referendum.  If conservatives keep trying to board the windows, more stuff is going to end up broken than if they just opened the door.
As with immigration and Hispanics, marriage may not be gays' top priority, but it matters, and the way Republicans approach and discuss the issue can signal that "you're not one of us," which is poison for coalition-building.
The flip side of that coin doesn't have to be pandering; given the consciousness of gay communities about targeted violence and bullying, it'd be awesome if conservatives taught more gays how to use and maintain firearms.
After the election, Righty circles are naturally engaging in some soul-searching, finger-pointing, and bickering.  Some of this is unproductive venting, but it's also the start of the process of working out how to move on and improve, and there's no time to waste.
My conversations with fellow Righty operatives and bloggers have spurred me to suggest several ways Republicans could simultaneously make the party more attractive (or less repulsive) to voters and achieve more conservative results.  This post is about immigration and reversing the trend of Hispanics rapidly abandoning the GOP; the next is about gay marriage; and the final post is about entitlement reform.
First, let's dispense with the notion agreed upon by many on the Right: seal the border first, so that whatever follows is more controlled and orderly.  This is an expensive fantasy.  Conservatives need to apply their skepticism of huge, complex, market-distorting government plans to every issue surrounding immigration, starting with any plan to spend tens of billions of dollars on thousands of miles of fence, surveillance, unionized government employees, and a verification system forced on every employer in the country.
It's a joke that the Republican Party, which is practically defined by marriage, babies, and mortgages, holds at arm's length a whole demographic (Hispanics, especially foreign-born) that tends to be more religious, marry younger and longer, and have larger families than the average American voter.
Mass immigration could work for the GOP if the GOP went with the tide instead of trying to stop it.
If Republicans want school choice, they should have natural allies among those who are religious, have large families, and see their children suffer under the worst public schools.  When you hear complaints that Hispanic immigrants don't speak English, suggest vouchers and education savings accounts for private-school English language instruction.
If Republicans want to revive farms and stop the population drain from rural areas, make legitimate cheap labor more available: open up a bunch of farm worker visas.
If Republicans want to cut the cost of new housing so that young people can form households and families, make legitimate cheap labor available for that too.  Heck, why not try to break various trade unions by inviting enough skilled immigrants to swamp or bypass their system?
So the entitlement system is a problem?  Yeah, Milton Friedman famously said you can't simultaneously have free immigration and a welfare state.  Shouldn't the Republican response be "Bring on free immigration"?  If math dooms Medicaid and the subsidized industrial-age hospital model, why not make the math even harder?
Conservatives have longed to shift taxes away from production and toward consumption.  Nobody wants to remove labor tax wedges (AHEM: the payroll tax) as much as someone in a labor-intensive business, the kind that tends to thrive when there's a lot of cheap labor available.  That goes for both employers and the employees whose compensation is tilted toward wages rather than benefits; we know it suppresses the Hispanic savings rate.  And the payroll tax, of course, helps to maintain the accounting fiction that SocSec and Medicare are like savings.
Now, about the security problem: is it easier to pick out a genuine security threat in the crowd if everyone just has to pass a security check, or if hundreds of thousands of people are trying to cross the border undetected because the only legal route is a seven-year byzantine process?
Heather Mac Donald at NRO offers a potential counter-argument: Hispanics are more suspicious of Republicans for supporting class warfare than for opposing immigration according to a poll (from March 2011), and a majority favor gay marriage, so they're not such a conservative bunch.  But:
Immigration may not be most Hispanics' top concern, but it isn't trivial either.  And because politics is so tribal, there are many ways to alienate a group without actually disagreeing on policy – many of which Republicans blunder into when discussing immigration.
Finally: social issues.  Mac Donald points out that a majority of Hispanics favor gay marriage.  I'll argue in my next post that conservatives should proactively embrace gay marriage, which should resolve this issue nicely.