Free Markets, Free People
You've all read about the first "3D gun" being made?  Well here's some of the fallout:
Defense Distributed, the Texas-based nonprofit that wants to empower people to 3D print their own guns, has hit a bit of a legal snag. According to founder Cody Wilson, DEFCAD, the open source weapon-printing project powered by Defense Distributed, received a letter (embedded below) from the State Department's Office of Defense Trade Compliance, telling him to remove the blueprints of the Liberator, his 3D printed gun, from the web so that they may be reviewed by the department.

The group's website currently has a red banner appended to the top that reads, "DEFCAD files are being removed from public access at the request of the US Department of Defense Trade Controls.  Until further notice, the United States government claims control of the information."

"We got an official letter from the Secretary of State, telling me who they were, what their authority was under U.S. law and telling me they want to review these files to see if they're class one munitions," Mr. Wilson told Betabeat by phone. "That includes blueprints."
So anyone want to guess how many times those blueprints were downloaded before this order came along?  I know there are many other aspects of this case to discuss such as this:
In the letter … the State Department says that Defense Distributed may have released data that is controlled by the International Traffic in Arms Regulation without getting prior authorization. This would put the company's actions in conflict with … the Arms Export Control Act.

"Please note that disclosing (including oral or visual disclosure) or transferring technical data to a foreign person, whether in the United States or abroad, is considered an export," reads the letter. It also says that until Defense Distributed has received the legal all-clear, the company "should treat the above technical data as ITAR-controlled. This means that all such data should be removed from public access immediately."
But other than a basis to prosecute, the letter accomplishes nothing. Same with the "law". Add the internet and, well, whoosh, it's around the world before the government even knows about it.
A perfect example of why, and you can see rumblings of it happening now here (and, of course, it is a top priority in other countries), government is growing more and more interested in controlling the internet.  Again, the excuse du jour will be what?  "It's for your own safety and security that we clamp down on these things and take away some of your freedoms".  It has no choice if it is going to enforce it's laws does it?
And we all remember what Ben Franklin said about trading freedom for security, don't we?
Don't we?
~McQ
So, the Bureau of Justice Statistics has released their new report (PDF) on crimey, violency things. The key takeaway on homicide, is that it's declined sharply over the last 20 years.
There were 11,101 firearm homicides in 2011, down by 39% from a high of 18,253 in 1993.
This actually understates the drop, however, because if you jump back to 1991, the FBI reports that there were 24,703 homicides that year. So, while homicides have declined by 39% from 1992, they've declined by 55% from 1991.
It's not just homicide. In general gun crime is just…less.
Nonfatal firearm-related violent victimizations against persons age 12 or older declined 70%, from 1.5 million in 1993 to 456,500 in 2004. The number then fluctuated between about 400,000 to 600,000 through 2011.
So, despite the fact that we have more guns in private hands than at any other time in living memory, we simply aren't using them against each other anywhere near as much as we were just 20 years ago.
Maybe part of that is the profusion of concealed carry laws. Maybe part is because of things like 3 strikes laws, where we just lock people up for a really long time, and we have really a lot of people in prison. But what is clear is that violent gun crime has dropped precipitously since 1991.
~
Dale Franks
Google+ Profile
Twitter Feed
It's just an inconvenient truth that they don't want anyone to be aware of at the moment – i.e. you are your own best self-defense and you should be equipped to handle that responsibility.  This happened last year.  Did you hear about it?  The MSM is invested on the side which says "guns are bad":
A citizen with a gun stopped a knife wielding man as he began stabbing people Thursday evening at the downtown Salt Lake City Smith's store.

Police say the suspect purchased a knife inside the store and then turned it into a weapon. Smith's employee Dorothy Espinoza says, "He pulled it out and stood outside the Smiths in the foyer. And just started stabbing people and yelling you killed my people. You killed my people."

Espinoza says, the knife wielding man seriously injured two people. "There is blood all over. One got stabbed in the stomach and got stabbed in the head and held his hands and got stabbed all over the arms."

Then, before the suspect could find another victim – a citizen with a gun stopped the madness. "A guy pulled gun on him and told him to drop his weapon or he would shoot him. So, he dropped his weapon and the people from Smith's grabbed him."
Whoa, that can't be right can it?  Guns kill people.  Guns are dangerous.  Guns should be banned.  Guns are terrible.
Anyone want to guess what those who were threatened and stabbed in this particular instance might say about the gun wielding man?
Maybe, "thank you?"
Oh:
By the time officers arrived the suspect had been subdued by employees and shoppers. Police had high praise for gun carrying man who ended the hysteria. Lt. Brian Purvis said, "This was a volatile situation that could have gotten worse. We can only assume from what we saw it could have gotten worse. He was definitely in the right place at the right time."
Key phrase: "By the time officers arrived …"  It could have ended with "the man had stabbed a dozen people" or "had killed 3″ or, well, any of a number of much worse endings huh?
But, you know, you can't be trusted with guns.
~McQ
From The Hill, this paragraph concerning the brothers who perpetrated the Boston bombings:
The news that the suspects were not authorized to own firearms will likely add fuel to calls for tougher gun laws – an issue that was put on the back-burner last week after the Senate blocked the central elements of a gun-control package backed by President Obama.
A) I told you so … I said a few days ago that the defeat of the latest gun control legislation was only a set back and hardly the end of the left's efforts to further restrict the right to own a firearm.  B) I also told you I feared the aftermath of the bombings.  And here we go.   And finally C) WTF?
It is clear that Massachusetts' very strict gun control laws has no effect here. None.  Absolutely zero.  How many times and in how many ways must we say that scofflaws don't obey laws?  How often does the "we ought to pass a law" crowd who think legislation and restriction is the answer to everything have to see that their way is a failure before they quit trying to take our freedoms away?
Gun control laws don't work.  If they did, there'd be no criminals running around with "illegal" guns, would there?  There'd be no source of those guns if those laws worked.  But, in fact, criminals almost exclusively obtain "illegal" guns and/or completely ignore any gun control legislation.  Look at Chicago for heaven sake.  Some of the most restrictive gun control laws in America and criminals have all but made it a free-fire zone.
When will the left understand that the problem isn't guns, it's criminals?  How often does it have to be pointed out to them that criminals, by definition, don't obey laws?  How will more legislation suddenly stop (or even deter) two determined people, like the Boston bombers, from illegally obtaining guns?  Harsher penalties?  Obviously they were willing to take the risk.  And that seems to be the case with all the other criminals who use guns in the commission of their crimes.
The only people that will be deterred and restricted by new gun control legislation are the law abiding.  And watch out for this – at the end of this road (or slippery slope if you prefer) is the rationalization that the only way to "control gun violence" is to completely outlaw guns.  It is the logical end of the left's push for more and more restrictive gun legislation.  And, as they often do, they're willing to spend the time, exploit and politicize tragedies and achieve incremental success in taking guns away.  It's no different than ObamaCare.  That's not the end of anything.  It is the first grab.  The end state, if you are a student of the left's actions at all, is fully government run single-payer health care.  ObamaCare is just the beginning.  Once it fails, because government has, whether on purpose or inadvertently designed it to fail, government will blame "the market" and claim it is the solution.
It's an old pattern being repeated, in a slightly different way, in the gun control saga.  One only has to harken to the era of prohibition (or not even that far back … how about drug laws?) to know that restrictive legislation doesn't work, has never worked and will never work.
Violence and criminal behavior are the problems.  Passing all the laws in the world won't change that.  As usual, government chooses to treat the symptoms and go after a tool rather than the actual problem.
If and when they finally find a way to ban all guns, run gun manufacturers out of the country and put more untold thousands of citizens in jail, they'll be shocked, shocked I tell you, when gun violence continues and violence in general rises.
See the UK and Australia for case studies.
~McQ
Apparently Barack Obama threw a bit of a hissy fit when the gun control legislation went down in the Senate.   And, as James Taranto points out, Gabby Giffords managed, in a 900 word screed, to employ about every logical fallacy one can employ in here denunciation of the failure of the legislation to pass.
Finally, the NY Time's Jennifer Steinhauer weighs in claiming that the vote went against the will of the people and that it was the gun lobby's fault.
Gun lobby?  Oh, we all know about the NRA.  However here's something I don't think the left fully comprehends.  The real "gun lobby" is the majority of the American people.  In the US, there are 88.8 guns per 100 people.  The highest in the world.  Yet all the rhetoric about increased gun violence simply doesn't pan out.  Certainly there have been some high profile sprees and shootings, but on the whole, there hasn't been an increase in gun violence, and certainly nothing like being claimed.
The left's problem may be that the people of the US know that.  And they've also sniffed out the ulterior motive for this incremental attack on the 2nd Amendment.
So while they throw their hissy fits and put forward their fallacious arguments, they continue to miss why there is so much resistance to gun control legislation.
Because, quite frankly, a large portion of the people simply don't trust government.  And you can add to that a fundamental understanding that self-defense is a personal responsibility and right.
The left just can't wrap it's head around that concept.  If they pass laws and give the responsibility to government then we'll all be safer, right?
Sarcasm aside, don't even begin to think this is the end of the struggle.
They'll be back again soon.
Just hide and watch.
~McQ
I see some on the Left passing around this map showing that female mortality worsened in many counties between the early/mid-'90s and the early/mid-2000s.  (Meanwhile, male mortality only worsened in 3.4% of counties.)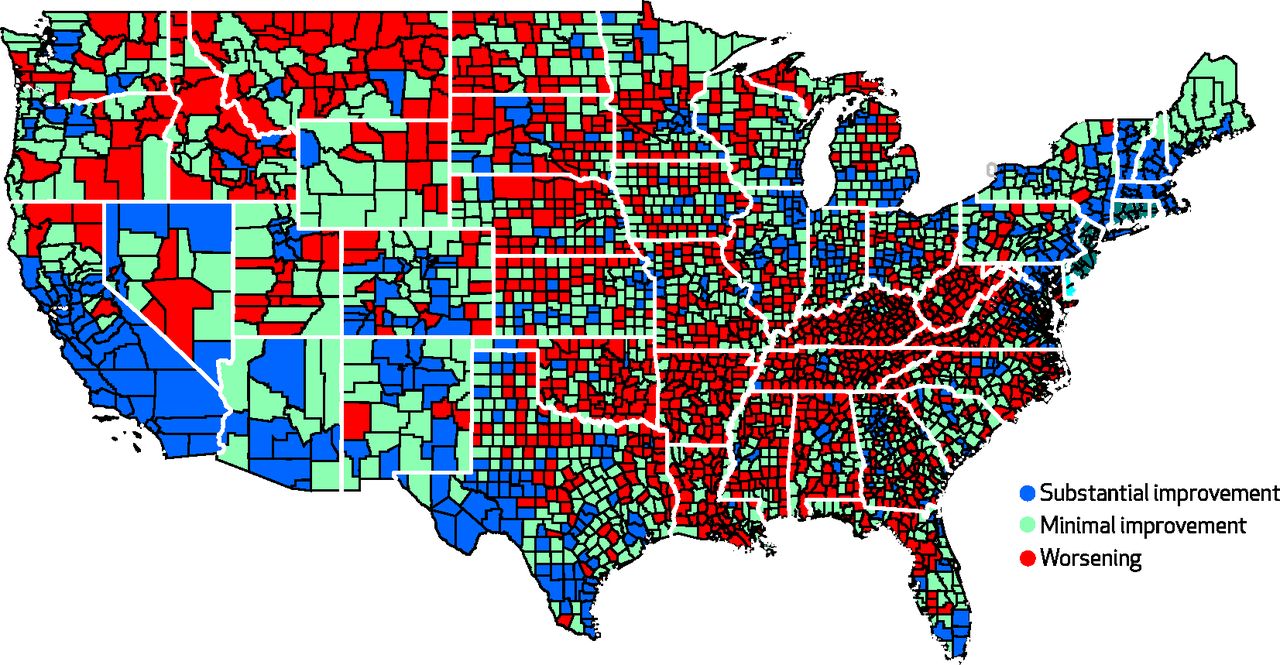 They noticed red states doing worse than blue states, and thought that this must, of course, be due to the Republican war on women™.
The mortality rate of females [worsening] in 43 percent of U.S. counties from 2002-2006 is eye-opening. This map from health researcher Bill Gardner helps you see where the worst results are typically coming from — red states and the redder parts of blue states.
It apparently did not occur to these partisans to control for a fairly simple, innocent phenomenon: old people just die more frequently than younger people.
Rural areas are aging faster as they have fewer kids who stick around – and it's mostly women left behind, since women have a longer life expectancy than men in the US.  So the mortality rate of a county could go up even if people are as healthy for their age as ever.
On the other hand, when you have an influx of young people (like in high-immigration counties), the mortality rate drops.
As evidence for this, look at the overlaps between the above map and two others:

More old people combined with fewer people in the prime of their health tends to mean a higher death rate, and vice versa.  It's not a perfect correlation, but at very least it's something that should be taken into account before blaming policy for deaths.

It certainly seems like less of a stretch than trying to blame the trend in female mortality on suicides connected to expanded gun ownership:
[A]nother study suggests that red states' high levels of gun ownership make them especially dangerous:

With few exceptions, states with the highest rates of gun ownership — for example, Alaska, Montana, Wyoming, Idaho, Alabama, and West Virginia — also tended to have the highest suicide rates.
How big of a stretch is this as a contributor to female mortality?  Two little hints:
And then there's this bold prediction:
With red states rushing to turn down the Medicaid expansion, these results will likely only get worse.
That's not outlandish as guesses go, since women consume two thirds of medical care in this country, but there's not an obvious nationwide relationship between Medicaid dependence and changes in women's mortality (though controlling for ethnicity might be a start):
Blaming the party elected by older people for higher mortality in the areas they govern is like blaming Democrats for young urbanites being more prone to violent crime than old rural farmers.  If you're not controlling for other causes, you're just trolling for partisan causes.
Let me preface this by saying there is absolutely no need for new gun control legislation.  None.  Nada. Zip. Zero.
The claims by the left that gun control legislation will solve problems of violence are nonsense. Period.
But that likely won't stop the usual suspects among GOP Senators from helping the left in their incremental but determined efforts to limit your 2nd Amendment rights. Apparently "Congress shall make no law" has a different meaning to some people:
Sen. John McCain (R-Ariz.) has emerged as a key player if Senate Democrats are to have any chance of passing legislation to expand background checks for private sales of firearms.

McCain and Sens. Susan Collins (R-Maine) and Dean Heller (R-Nev.) are at the top of a list of Republicans considered most likely to sign on to legislation expanding background checks after talks with Sen. Tom Coburn (R-Okla.) stalled earlier this month.
Sen. Mark Kirk (R-Ill.) has signaled he will likely support the yet-to-be-finalized proposal he negotiated with Sens. Charles Schumer (D-N.Y.) and Joe Manchin (D-W.Va.) to expand background checks to cover private gun sales, according to Senate sources.
Of course we've been assured by some that this is really of no big consequence and we should relax and let it happen.
Uh, no.
Like I said in the beginning – there is absolutely no need for new gun control legislation – none. The fact that some in the GOP seem poised to make that happen anyway should tell you all you need to know about certain members of that party and their professed claim to believe in your Constitutional rights all while negotiating parts of them away.
~McQ
Emily Miller, writing in the Washington Times, reports:
Gun control efforts on the nation level lost a major battle when Senate Majority Leader Harry Reid told a bereft Sen. Dianne Feinstein Monday that her so-called assault weapon ban bill was getting pulled from the gun package coming to the floor next month. Her legislation, which passed the SenateJudiciary Committee last week by a straight party line vote, is the only one of the four gun-related bills that passed out of committee that Mr. Reid axed.

Mrs. Feinstein insists she will not be ignored. The California Democrat plans to bring two amendments up during the gun votes — to ban firearms that have one cosmetic feature that makes them resembles military weapon and magazines that hold more than 10 rounds. Mr. Reid said Tuesday that "her amendment, using the most optimistic numbers, has less than 40 votes — that's not 60."

However, Mr. Reid's calculation was really less about vote counting and more about keeping the majority in the upper chamber.

"The Democrats know that Feinstein's 'assault weapon' ban is suicide at the polls for them come 2014," Alan Gottlieb, the founder of the Second Amendment Foundation told me Tuesday. "It is so extreme that even the Democratic leadership in the Senate doesn't want it as part of their package."
So 'whoohoo', huh?  Yeah, sort of, but Miller entitles her piece "RIP national assault weapons ban".  RIP?  Hardly.  If you think Democrats, or at least Feinstein, are going to quit on this, you're wrong.  Just consider how long they pushed for government mandated health care.  The fact that they couldn't muster 40 votes in the Senate is, to those who would take your guns, another temporary setback.  Despite the fact that studies have shown no positive link a decline in gun violence and the last assault weapon's ban, they'll continue to try.  Trust me on that.  This isn't about safety, it's about controlt:
Mrs. Feinstein insists she will not be ignored. The California Democrat plans to bring two amendments up during the gun votes — to ban firearms that have one cosmetic feature that makes them resembles military weapon and magazines that hold more than 10 rounds.
Right now Democratic Senators are reading the electoral tea leaves and know that such a vote, at least for those in states where their seat isn't safe, is electoral poison.  As soon as they see or feel that the electorate's opinion has shifted, they'll gladly vote for such a ban.  The lack of votes isn't about principle, it's about keeping their jobs.
"The Democrats know that Feinstein's 'assault weapon' ban is suicide at the polls for them come 2014," Alan Gottlieb, the founder of the Second Amendment Foundation told me Tuesday. "It is so extreme that even the Democratic leadership in the Senate doesn't want it as part of their package."
Mr. Obama does, of course. And so they'll continue to try.  And they'll use the incremental approach instead.
And there's something else to consider here – the politics of the Reid move.  He's taken the step of removing the most controversial parts of the gun control attempt.  But there's still more for the Senate to consider.  And Reid is trying to use his removal of the "extreme" parts to demand a corresponding move (i.e. "compromise") from the GOP in support of what's left.
The background check bill is the most contentious of those three, and lawmakers are still working behind the scenes to find a compromise that can garner 60 votes in the chamber.

Sen. Joe Manchin III, a West Virginia Democrat who has been trying to work out a compromise, said Tuesday he was optimistic on that front.

"I'm still working very hard, and hopefully reasonable people will look at reasonable proposals and something will happen," he said.
And what would that compromise bring?
Currently, all sales by licensed firearms dealers must go through background checks, but transactions between private individuals do not. Lawmakers are looking for a way to extend checks to almost all transactions without also creating a record-keeping system that gun rights supporters fear could turn into a gun registry.
How could it not turn into a defacto"gun registry"?
And who wants to bet that some GOP Senators end up supporting it?
~McQ
It all starts with what could be described as a very simple act – the acceptance of a premise.   As soon as one side accepts the premise of the other side, the other side has won.  It simply becomes a matter of how bad the damage is.
In this case, the premise that seems to have been accepted by the "old ladies" of the GOP leadership is that some sort of federal "gun control" legislation is necessary  because of "mass killings" and our "children".  From Ammoland:
You might think that with Republicans in control of the US House of Representatives there would be no way ANY gun control legislation could reach the floor.

But sadly we are already beginning to see so-called "conservative champions" folding to pressure from the anti-gun media to sell-out gun owners.

Former Vice Presidential candidate, Congressman Paul Ryan, has stated that he would support legislation that bans private sales at gun shows.

In the House, Majority Leader Eric Cantor, along with the help of Rep. Scott Rigell (VA), Patrick Meehan (PA) and others, have stated openly that they will work together with anti-gun Democrats from Maryland and New York to tighten restrictions on private firearms sales and expand background checks.

Possibly even more upsetting has been Senator Tom Coburn's willingness to work alongside anti-gunner Chuck Schumer (NY) to propose "bi-partisan" anti-gun legislation in the Senate.

Make no mistake, so-called "expansion" of background checks is little more than a blatant attempt by anti-gunners to register all firearms and gun owners in America.

That is why Representatives Steve Stockman (TX-36) and Paul Broun (GA-10) have drafted a letter to Speaker Boehner and the Republican leadership urging them to require the support of the majority of Republican members in the House before bringing any anti-gun bills to the floor.

This so-called "Hastert Rule" would mean that 117 Republicans would have to support a particular bill before it had any chance of getting a floor vote, not just the support of the anti-gun elitist in leadership.
So the premise seems to have been accepted by the GOP leadership if this report is accurate.  And, if it is accurate, then they're going to try to fashion some sort of gun control legislation to address a problem that the type of gun control legislation they'll propose won't effect.  What it will do, however, is create a new law that will put legal gunowners in criminal jeopardy if they desire to sell their firearms and don't follow the new rules to a 't' (and, my guess is the new rules will likely be mostly unenforceable – they'd only be enforced retroactively if a gun involved in a private sale that wasn't "background checked" was used in a crime).
The criminals?  Those who are likely to commit mass killings?  Yeah, they'll comply.
Meanwhile, if you believe that Congress has no right to "infringe" on 2nd Amendment rights, prepare to be sold down the river by the GOP.  They've already accepted the need and the premise, it's now just a matter of figuring out what the "compromise" will be.  What should be clear, however, is that if anti-gun legislation does get passed, it will be your 2nd Amendment rights that will be compromised and the GOP will be complicit.
~McQ
Given Fast and Furious, I'd suggest that Mexico ask for the names of gun runners instead.  We'd top that list with the names "Barack Obama" and "Eric Holder".  However:
On February 18th, Sentinel reported about a new law passed by Mexican legislators – a mandate for a formal request of our US Senate to create and share a gun registry of all commercial firearms in the border states with the Mexican government and police. Private gun ownership names and addresses would then be in the hands of the Mexican government  and police that all agree are filled with corruption.
In the past, I'd unhesitatingly say, "yeah, not going to happen".  With this administration, it wouldn't surprise me in the least if they tried to comply.
Mexican ambassador to the U.S., Eduardo Medina Mora, said he hopes the Newtown shooting "opens a window of opportunity for President Obama" to pass tighter gun control laws."

"The Second Amendment and the regulations adopted in the U.S. is not, never was and never should be designed to arm foreign criminal groups," the nervy ambassador said.

Mexican activists in Mexico City have passed in a petition with 54,000 signatures asking for tighter US gun control.
Of course they have – the murder and mayhem among their criminal class is out of control and epidemic and they need someone to blame.  And, of course, this would provide a wonderful premise on which to clamp down on private ownership of firearms, Constitution be damned.
Of course realty says that, stipulated, even if they could and did do this, nothing would change:
George W. Grayson, a Mexico expert at the College of William and Mary, doubts tighter gun control laws in the U.S. will greatly affect violence in Mexico. Cartels, Grayson said, can easily find AK-47s and other assault weapons on the international market – places such as China, France, Brazil and Israel.

"The lion's share of weapons used by cartels come from the United States, but having said that, if the Virgin of Guadeloupe were to stop the flow of weapons southward it would be a nuisance for the cartels but it certainly would not end the bloodshed," Grayson said.

Ultimately, he said, Mexico would do itself a favor by looking domestically for the roots of the drug war – fixes are badly needed to the country's corrupt judicial system, military and police force.
But reality and facts have never before stopped a political agenda.  Arms such as those the cartels use are readily available from dozens of international arms dealers.  Screwing the rights of Americans to keep and bear arms as guaranteed by the 2nd Amendment wouldn't change that one iota.
And they know that.  But, as pointed out the other day, this isn't about facts.  This is about a social and political agenda.  In the case of such agendas, pretty much anything is considered fair, to include ignoring facts, science and the Constitution.
Let's see if anything develops from this.
~McQ