Free Markets, Free People
Well apparently the ultimate RINO is restless and looking for a nail on which he can use his legislative hammer.
John McCain is going to release a bill that would dismantle cable as it's currently constructed, Brenden Sasso at The Hill reports.

The legislation would force cable companies and satellite TV providers to give consumers an option to pick and choose which channels they get. This is called "à la carte programming," and it's long been a dream of consumers who only want a handful of channels.
While I'd certainly be fine with a la carte programming, it is none of the government's business.  When someone finds a way to offer that, consumers will reward them.
Speaking of the government, you'd think another thing that they and McCain would be for would be a la carte health insurance.  You know, a dream of health care consumers.  Instead we get bundled health care with 300 things we don't want but have to pay for because the government says so.
You'd think people like McCain, et al, would want to do something abou that wouldn't you … instead of worrying about TV channels.
~McQ
A couple of years ago my wife was told she needed a hip replacement.  To say it shocked her would be an understatement.  After finally accepting it, she got on Google.  And she did research.  She found there were two types of hip replacement surgeries – a posterior approach and an anterior approach.  She also found out the difference was like night and day in terms of recovery.
The anterior approach is by far the superior.  But, since it is a fairly new approach and requires a very expensive table, most doctors who do hip replacement surgery use the posterior approach.  Unfortunately, in the Atlanta area there were only two groups who do the anterior approach and neither of them take our insurance.   So she had a dilemma.  She could get the hip replaced but she was stuck with the posterior approach which required the cutting through a number of muscles in the hip area.
However, we're talking my wife, Ms. "Never say never".  She got on the phone with our insurance carrier and started pitching the anterior approach, telling them how superior it was to the other approach and how it would save them money, etc.  Finally, the insurance provider told her to widen her search to a 100 mile radius and she found a doctor in Gainsville, GA, about 40 minutes from where we live who does the anterior approach.  After consultation with him, she made her decision and surgery was today.
I'm amazed.  She went into surgery at 7:30am, was out at 9, in her room at 12, and here's the amazing part, walking down the hallway of the patient floor at 1pm.  She made an entire circuit.  Not only that, they took her by the physical therapy room and she went up and down stairs.  With her new hip.
Phenomenal.  She leaves tomorrow to go home.  Had she had the other approach she'd be facing 2 weeks in a rehab hospital and months of rehab afterward.
Well, maybe not her, but you get the picture.  She's a trooper, but her experience isn't at all uncommon with this approach.  Hip surgery was a huge and painful ordeal that took you out of circulation for a while.  With the anterior approach, it doesn't have to be anymore.  I don't know if you or a loved one may have that in their future but if so, insist on finding a doctor that uses the anterior approach.
It is well worth the search.
~McQ
I see some on the Left passing around this map showing that female mortality worsened in many counties between the early/mid-'90s and the early/mid-2000s.  (Meanwhile, male mortality only worsened in 3.4% of counties.)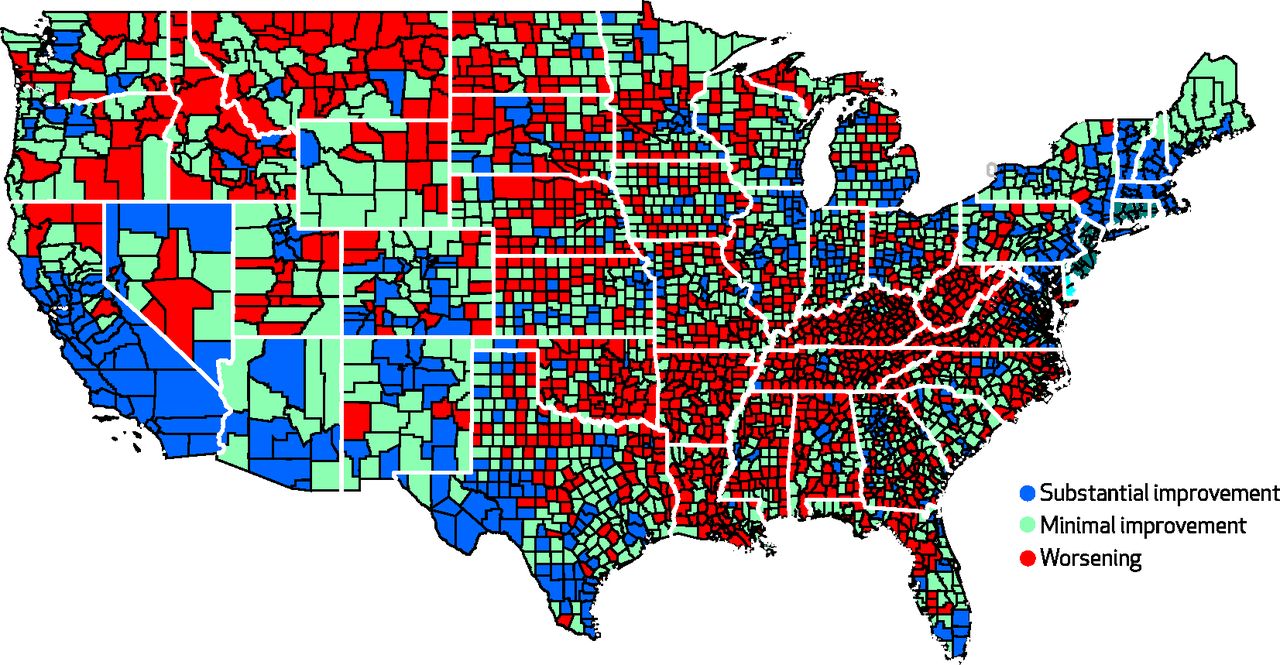 They noticed red states doing worse than blue states, and thought that this must, of course, be due to the Republican war on women™.
The mortality rate of females [worsening] in 43 percent of U.S. counties from 2002-2006 is eye-opening. This map from health researcher Bill Gardner helps you see where the worst results are typically coming from — red states and the redder parts of blue states.
It apparently did not occur to these partisans to control for a fairly simple, innocent phenomenon: old people just die more frequently than younger people.
Rural areas are aging faster as they have fewer kids who stick around – and it's mostly women left behind, since women have a longer life expectancy than men in the US.  So the mortality rate of a county could go up even if people are as healthy for their age as ever.
On the other hand, when you have an influx of young people (like in high-immigration counties), the mortality rate drops.
As evidence for this, look at the overlaps between the above map and two others:

More old people combined with fewer people in the prime of their health tends to mean a higher death rate, and vice versa.  It's not a perfect correlation, but at very least it's something that should be taken into account before blaming policy for deaths.

It certainly seems like less of a stretch than trying to blame the trend in female mortality on suicides connected to expanded gun ownership:
[A]nother study suggests that red states' high levels of gun ownership make them especially dangerous:

With few exceptions, states with the highest rates of gun ownership — for example, Alaska, Montana, Wyoming, Idaho, Alabama, and West Virginia — also tended to have the highest suicide rates.
How big of a stretch is this as a contributor to female mortality?  Two little hints:
And then there's this bold prediction:
With red states rushing to turn down the Medicaid expansion, these results will likely only get worse.
That's not outlandish as guesses go, since women consume two thirds of medical care in this country, but there's not an obvious nationwide relationship between Medicaid dependence and changes in women's mortality (though controlling for ethnicity might be a start):
Blaming the party elected by older people for higher mortality in the areas they govern is like blaming Democrats for young urbanites being more prone to violent crime than old rural farmers.  If you're not controlling for other causes, you're just trolling for partisan causes.
Two-thirds of Democrats now believe Obama's health care reforms will either hurt them personally or have no effect on their daily lives, a Quinnipiac University poll released Thursday shows. In comparison, just 27 percent of Democratic respondents said the reforms would help them.
As for the rest?
Just 3 percent of Republicans and 15 percent of independents believe the president's overhaul will help them personally, the poll shows. Even worse for the White House, 68 percent of self-identified Republicans and more than a third of all independents said the reforms would hurt them personally.
But a Democratic Congress rammed it through anyway, didn't it?  And a sell-out Chief Justice found it to be "Consitutional", so now we have to live with it – at least temporarily.
Yet most of the country believes it won't do what was advertised and will instead cost them more.  And most of them have believed that (rightfully so) since the beginning.
Yet we still have it.
How anyone, even Democrats, believed that adding layers of government regulation, taxation and bureaucracy could possibly make the health care system less expensive remains one of those mysteries of life.  Well, not really.  It's call delusion.  And in this case, it was something they wanted to believe badly and facts and reality just got in the way of that belief.  And now what has their secular faith brought us?
Another in a long line of disastrous and costly government  programs that we can't afford.
And now they want to bitch.
Screw 'em.
~McQ
Does a duck quack? Of course they were. Were politicians pushing an agenda involved? That's a rhetorical question:
And yes, we told you so.
As Thomas Sowell pointed out, and I'm paraphrasing, how anyone thought that adding a layer of bureaucracy and regulation to the current system was going to drive costs down was beyond him.
And it was beyond most people who have even a modicum of common sense.
Medical claims costs — the biggest driver of health insurance premiums — will jump an average 32 percent for Americans' individual policies under President Obama's overhaul, according to a study by the nation's leading group of financial risk analysts.

The report could turn into a big headache for the Obama administration at a time when many parts of the country remain skeptical about the Affordable Care Act. The estimates were recently released by the Society of Actuaries to its members.

While some states will see medical claims costs per person decline, the report concluded the overwhelming majority will see double-digit increases in their individual health insurance markets, where people purchase coverage directly from insurers.

The disparities are striking. By 2017, the estimated increase would be 62 percent for California, about 80 percent for Ohio, more than 20 percent for Florida and 67 percent for Maryland. Much of the reason for the higher claims costs is that sicker people are expected to join the pool, the report said.
Well done, Democrats — well done.
~McQ
A new study that is sure to make Mayor Michael Bloomberg and other health nannies wet their britches in thanks is out:
New research finds that the consumption of sugary drinks and sodas contributes to about 180,000 obesity-related deaths around the world — including the deaths of about 25,000 adult Americans — each year.

According to a new study presented on Tuesday at a meeting of the American Heart Association, one out of every 100 obesity-related deaths around the world can be tied to sugary drinks, which directly exacerbate health conditions like diabetes, heart diseases, and cancer. Specifically, the over-consumption of those beverages increased global deaths from diabetes by 133,000, from cardiovascular disease by 44,000 and from cancer by 6,000.
So, 180,000 out of what, 6 billion?  And 25,000 in the US in a population of 300 million.
Can you say "statistically irrelevant"?  I knew you could.
But the "if our draconian measures can save even one life" crowd will see this as the means to more control, just watch.  It's just predictable (your health is now a "growth area" for control freaks and nannies).
Don't believe me?
The experts who contributed to the study explained that's a big issue because those calories don't provide any nutritional value, and policymakers should focus on helping encourage Americans to cut back:

"One of the problems of sugar-sweetened beverages is that we don't seem to compensate as well for the calories as we do for solid foods," [Rachel K. Johnson, a professor of medicine and nutrition at the University of Vermont] said. "In other words, when we consume sugar-sweetened beverages we don't reduce the amount of food we consume."

Johnson cautioned the study didn't prove cause and effect, just that there was an association between sugared-drink intake and death rates.

Singh, the study's co-author, said that taxing sugary drinks in the same way as cigarettes, or limiting advertising or access, may help reduce usage.

"Our study shows that tens of thousands of deaths worldwide are caused by drinking sugary beverages and this should impel policy makers to make strong policies to reduce consumption of sugary beverages," Singh said.
~McQ
I have to agree with Thomas Sowell who opined early on, and I'm paraphrasing here, "who would believe that adding a layer of government bureaucracy to healthcare would somehow make it less costly?"
Exactly.  Or easier to get, for that matter?
Applying for benefits under President Barack Obama's health care overhaul could be as daunting as doing your taxes.

The government's draft application is now on the Internet.

It runs 15 pages for a three-person family. The online version has 21 steps, some with added questions.

At least three major federal agencies, including the IRS, will scrutinize your application.

That's just the first part of the process, which lets you know if you qualify for financial help.

You'd still have to pick a health plan.
Wonderful stuff, no?  And nice to know the IRS is in on it from the beginning … because, you know, they have a lot to do with health care.
Some fear that consumers will be overwhelmed and give up.
Ya think?
Administration officials say the application form is being refined.
Of course it is.  And it will be forever.  Success?  Reducing it to 10 pages I'm sure.
Still, the idea that picking a health insurance plan could be as simple as shopping on the Internet is starting to look like wishful thinking.
Heh … only an absolute dope would have believed that in the first place, with government involved.
But we told you all of this before the law was passed, didn't we?
~McQ
Anyone who doesn't think that this is the future of government run healthcare just hasn't been paying attention. The UK is our future. Once Obamacare fails and the liberals and Democrats convince the American people that government run single-payer is the way to go, here's what you can expect:
Up to 60,000 patients die on the Liverpool Care Pathway each year without giving their consent, shocking figures revealed yesterday.

A third of families are also kept in the dark when doctors withdraw lifesaving treatment from loved ones.

Despite the revelations, Jeremy Hunt last night claimed the pathway was a 'fantastic step forward'.
A "fantastic step forward". If that isn't Orwellian we need to redefine the term. If you're not familiar with the Liverpool care pathway, it is " extreme rationing".
By that I mean "caregivers" make unilateral decisions about when your life ends, because you cost too much. You may not be particularly ill, but you are a burden. If you are ill, that's all the more reason to withdraw lifesaving treatment in their estimation. "First do no harm?"  Forget about it …
Records from 178 hospitals also show that thousands of people on the pathway are left to die in pain because nurses do not do enough to keep them comfortable while drugs are administered.

An estimated 130,000 patients are put on the pathway each year.

Concerns have been raised that clinical judgments are being skewed by incentives for hospitals to use the pathway.
We say here often that incentives drive performance. That holds true for bureaucracies as well.  As you can see here, this isn't some isolated instance of a few hospitals or region or two doing this on their own. This is government policy. And as you can imagine you really have no recourse.
You are looking at our future.
~McQ
What's going to be interesting is to see is if they actually do what they say they're planning to do. The administration has tried to ignore the court before. Just as interesting will be the substance of the "rewrite". What will the court accept as an "accommodation" to "religious liberty?":
Health and Human Services Secretary Kathleen Sebelius cannot enforce the Obamacare contraception mandate as it is written, but must follow through on a promise to rewrite the rule to accommodate religious liberty, a federal appeals court ordered.

The Obama administration "represented to the court that it would never enforce [the mandate] in its current form against the appellants or those similarly situated as regards contraceptive services," the three judges hearing the case wrote in their order. The Obama team made that promise during oral arguments against Wheaton College and The Becket Fund for Religious Liberty, which sued over the contraception mandate but lost at the lower court level.

"There will, the government said, be a different rule for entities like the appellants . . . We take the government at its word and will hold it to it," the judges wrote. They ruled that the Obama administration must rewrite the regulation by August 2013 and provide updates to the court every 60 days. If the government fails to do so, the lawsuits may proceed.

The court also noted that the Obama administration had not made such an expansive pledge outside the courtroom.
Yeah, I'm sure they haven't. Of course they could have cooled all the angst fairly quickly if they had. You have to wonder why they didn't.
Well, not really.
~McQ
Finally figuring it out?  Or finally admitting it?
Sixteen Democratic senators who voted for the Affordable Care Act are asking that one of its fundraising mechanisms, a 2.3 percent tax on medical devices scheduled to take effect January 1, be delayed.  Echoing arguments made by Republicans against Obamacare, the Democratic senators say the levy will cost jobs — in a statement Monday, Sen. Al Franken called it a "job-killing tax" — and also impair American competitiveness in the medical device field.

The senators, who made the request in a letter to Senate Majority Leader Harry Reid, are Franken, Richard Durbin, Charles Schumer, Patty Murray, John Kerry, Kirsten Gillibrand, Amy Klobuchar, Joseph Lieberman, Ben Nelson, Robert Casey, Debbie Stabenow, Barbara Mikulski, Kay Hagan, Herb Kohl, Jeanne Shaheen, and Richard Blumenthal.  All voted for Obamacare.
In the letter they say:
"The medical technology industry directly employs over 400,000 people in the United States and is responsible for a total of two million skilled manufacturing jobs," the senators wrote in a December 4 letter to Reid.  "We must do all we can to ensure that our country maintains its global leadership position in the medical technology industry and keeps good jobs here at home."
For whatever reason, however, these 16 can't seem to understand how what they're claiming here applies across the board to all taxes.  That is, they're job killers.  ObamaCare's taxes and mandates are particularly pernicious because they have many companies trying to figure out how to avoid them and that will mean fewer jobs, not more and certainly more costs in general.
But then no one ever said our political leadership was particularly sharp.  After all, somehow Maxine Waters is about to become the ranking member (senior Democrat) on the House Financial Services committee and Harry Reid remains the Majority Leader in the Senate.
Of course ObamaCare is full of job killing taxes as we've all become aware, and many of them will hit this year.  Add those to the "fiscal cliff" tax increases as well as sequestration and you can bet the Dems will see their "pro-choice" agenda fulfilled this next year – any developing economic recovery will be quickly aborted as exactly all the wrong things government can do to kill such a recover are done.
~McQ