Free Markets, Free People
I see some on the Left passing around this map showing that female mortality worsened in many counties between the early/mid-'90s and the early/mid-2000s.  (Meanwhile, male mortality only worsened in 3.4% of counties.)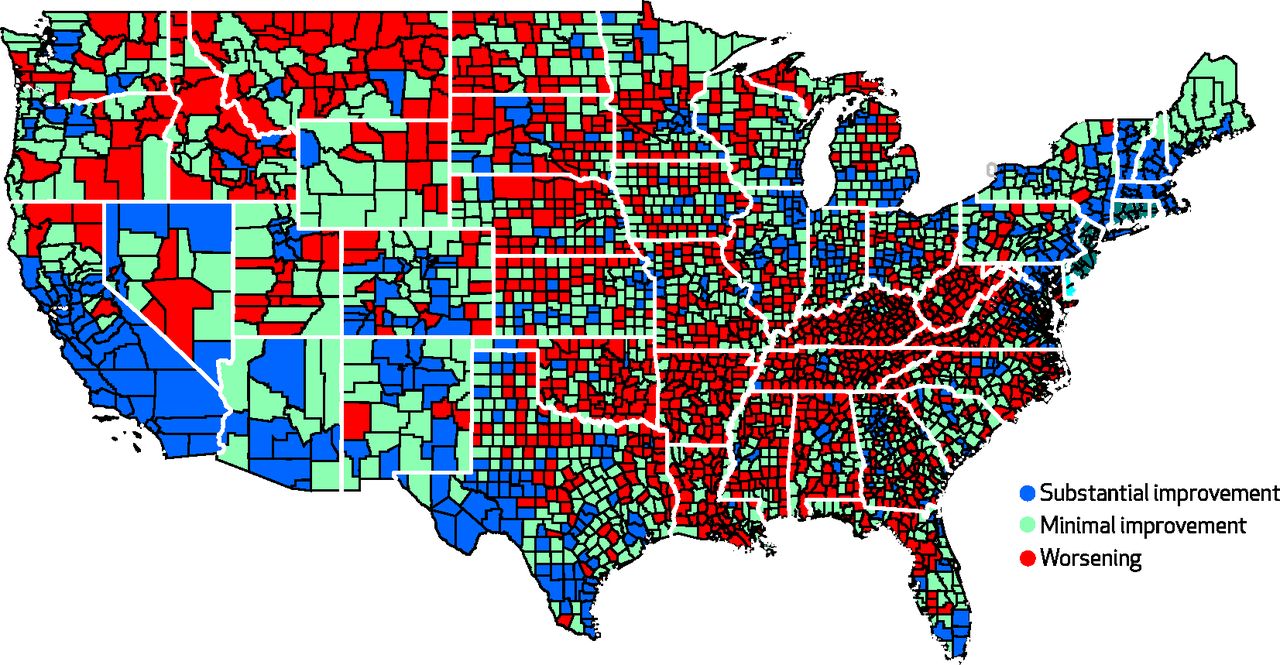 They noticed red states doing worse than blue states, and thought that this must, of course, be due to the Republican war on women™.
The mortality rate of females [worsening] in 43 percent of U.S. counties from 2002-2006 is eye-opening. This map from health researcher Bill Gardner helps you see where the worst results are typically coming from — red states and the redder parts of blue states.
It apparently did not occur to these partisans to control for a fairly simple, innocent phenomenon: old people just die more frequently than younger people.
Rural areas are aging faster as they have fewer kids who stick around – and it's mostly women left behind, since women have a longer life expectancy than men in the US.  So the mortality rate of a county could go up even if people are as healthy for their age as ever.
On the other hand, when you have an influx of young people (like in high-immigration counties), the mortality rate drops.
As evidence for this, look at the overlaps between the above map and two others:

More old people combined with fewer people in the prime of their health tends to mean a higher death rate, and vice versa.  It's not a perfect correlation, but at very least it's something that should be taken into account before blaming policy for deaths.

It certainly seems like less of a stretch than trying to blame the trend in female mortality on suicides connected to expanded gun ownership:
[A]nother study suggests that red states' high levels of gun ownership make them especially dangerous:

With few exceptions, states with the highest rates of gun ownership — for example, Alaska, Montana, Wyoming, Idaho, Alabama, and West Virginia — also tended to have the highest suicide rates.
How big of a stretch is this as a contributor to female mortality?  Two little hints:
And then there's this bold prediction:
With red states rushing to turn down the Medicaid expansion, these results will likely only get worse.
That's not outlandish as guesses go, since women consume two thirds of medical care in this country, but there's not an obvious nationwide relationship between Medicaid dependence and changes in women's mortality (though controlling for ethnicity might be a start):
Blaming the party elected by older people for higher mortality in the areas they govern is like blaming Democrats for young urbanites being more prone to violent crime than old rural farmers.  If you're not controlling for other causes, you're just trolling for partisan causes.
One of the most useful things I've learned about communication is the importance of stating things plainly and concretely.*  But thinking about that lesson frequently makes politics maddening.
Euphemisms are the health of politics.  If a government really wants to get away with murder, even secrecy can be less useful than making that particular murder sound unremarkable, justifiable, sensible, or even dutiful.
After the election, Righty circles are naturally engaging in some soul-searching, finger-pointing, and bickering.  Some of this is unproductive venting, but it's also the start of the process of working out how to move on and improve, and there's no time to waste.
My conversations with fellow Righty operatives and bloggers have spurred me to suggest several ways Republicans could simultaneously make the party more attractive (or less repulsive) to voters and achieve more conservative results.  This post is about immigration and reversing the trend of Hispanics rapidly abandoning the GOP; the next is about gay marriage; and the final post is about entitlement reform.
First, let's dispense with the notion agreed upon by many on the Right: seal the border first, so that whatever follows is more controlled and orderly.  This is an expensive fantasy.  Conservatives need to apply their skepticism of huge, complex, market-distorting government plans to every issue surrounding immigration, starting with any plan to spend tens of billions of dollars on thousands of miles of fence, surveillance, unionized government employees, and a verification system forced on every employer in the country.
It's a joke that the Republican Party, which is practically defined by marriage, babies, and mortgages, holds at arm's length a whole demographic (Hispanics, especially foreign-born) that tends to be more religious, marry younger and longer, and have larger families than the average American voter.
Mass immigration could work for the GOP if the GOP went with the tide instead of trying to stop it.
If Republicans want school choice, they should have natural allies among those who are religious, have large families, and see their children suffer under the worst public schools.  When you hear complaints that Hispanic immigrants don't speak English, suggest vouchers and education savings accounts for private-school English language instruction.
If Republicans want to revive farms and stop the population drain from rural areas, make legitimate cheap labor more available: open up a bunch of farm worker visas.
If Republicans want to cut the cost of new housing so that young people can form households and families, make legitimate cheap labor available for that too.  Heck, why not try to break various trade unions by inviting enough skilled immigrants to swamp or bypass their system?
So the entitlement system is a problem?  Yeah, Milton Friedman famously said you can't simultaneously have free immigration and a welfare state.  Shouldn't the Republican response be "Bring on free immigration"?  If math dooms Medicaid and the subsidized industrial-age hospital model, why not make the math even harder?
Conservatives have longed to shift taxes away from production and toward consumption.  Nobody wants to remove labor tax wedges (AHEM: the payroll tax) as much as someone in a labor-intensive business, the kind that tends to thrive when there's a lot of cheap labor available.  That goes for both employers and the employees whose compensation is tilted toward wages rather than benefits; we know it suppresses the Hispanic savings rate.  And the payroll tax, of course, helps to maintain the accounting fiction that SocSec and Medicare are like savings.
Now, about the security problem: is it easier to pick out a genuine security threat in the crowd if everyone just has to pass a security check, or if hundreds of thousands of people are trying to cross the border undetected because the only legal route is a seven-year byzantine process?
Heather Mac Donald at NRO offers a potential counter-argument: Hispanics are more suspicious of Republicans for supporting class warfare than for opposing immigration according to a poll (from March 2011), and a majority favor gay marriage, so they're not such a conservative bunch.  But:
Immigration may not be most Hispanics' top concern, but it isn't trivial either.  And because politics is so tribal, there are many ways to alienate a group without actually disagreeing on policy – many of which Republicans blunder into when discussing immigration.
Finally: social issues.  Mac Donald points out that a majority of Hispanics favor gay marriage.  I'll argue in my next post that conservatives should proactively embrace gay marriage, which should resolve this issue nicely.
POLITICO has a story out entitled "10 quotes that haunt Obama".  Haunt?  I'd say they define him.
The 10 quotes, minus the POLITICO take on each, are:
"Washington is broken. My whole campaign has been premised from the start on the idea that we have to fundamentally change how Washington works."

"I think that I'm a better speechwriter than my speechwriters. I know more about policies on any particular issue than my policy directors. And I'll tell you right now that I'm gonna think I'm a better political director than my political director."

"If I don't have this done in three years, then there's going to be a one-term proposition."

"Ronald Reagan changed the trajectory of America in a way that Richard Nixon did not, and a way that Bill Clinton did not."

"Guantanamo will be closed no later than one year from now."

"I think that health care, over time, is going to become more popular."

"I favor legalizing same-sex marriages, and would fight efforts to prohibit such marriages."

"It's here that companies like Solyndra are leading the way toward a brighter and more prosperous future."

"I fought with you in the Senate for comprehensive immigration reform. And I will make it a top priority in my first year as President."

"What we have done is kicked this can down the road. We are now at the end of the road and are not in a position to kick it any further. We have to signal seriousness in this by making sure some of the hard decisions are made under my watch, not someone else's."
What they define is arrogance, cluelessness, flip flopping and failure.  The gay marriage quote was one that ran in a gay newspaper in Chicago as Obama was running for the State Senate.  When confronted with that later, he denied those were his words.  Then, when it was politically important to embrace gay marriage, he "evolved" (what would be described as a 'flip-flop' for any other politician).
There are a ton of other quotes that could be on this list ("the private sector is doing fine" – arrogance and cluelessness).  But these will do.  They indicate a man who, for whatever reason, thinks an awful lot of himself while not demonstrating anything of substance to substantiate that feeling.  That is why Clint Eastwood talked to an empty chair.  He could just as easily had a naked Obama mannequin up there with an emperor's crown.
Washington is broken worse since he took office, Solyndra represents crony capitalism at its worst, he's kicked the can around the cul-de-sac while passing an extraordinarily expensive medical insurance law against the wishes of the American people.  Gitmo is still open, he's done nothing on immigration but blatantly ignored the law, his arrogance still knows no bounds, but he's damn sure no Ronald Reagan.  Or Bill Clinton, for that matter.
So I say we hold him to quote 3.  He has no interest in the economy, unemployment or jobs.  He's yet to meet with his jobs council, doesn't attend his daily intel briefs (well he does now, since being called out on it) and would much rather campaign than meet with world leaders at the UN.  He's a guy who loves the perqs of the job, but seemingly isn't real interested in the job itself.
And somehow we're supposed to believe giving him 4 more years would improve on this record.
Daft.
~McQ
Twitter: McQandO
Facebook: QandO
As you might imagine, it has consequences, and, given this situation, it is very hard to pretend the consequences are unintended.  Why? Because even a 5th grader could have predicted this outcome:
In a startling allegation, the president of the union representing Immigration and Customs Enforcement officers claimed illegal immigrants are "taking advantage" of a new directive allowing some undocumented residents who came to the U.S. as children to stay in the country. Union boss Chris Crane said the policy ends up allowing illegal immigrants to avoid detention without any proof — particularly so-called "dreamers," or those illegal immigrants who would benefit under the "DREAM Act" proposal, which Congress has not passed but the administration  has partially implemented.

"Prosecutorial discretion for dreamers is solely based on the individual's claims. Our orders are if an alien says they went to high school, then let them go," he said at a press conference with GOP senators. "Officers have been told that there is no burden for the alien to prove anything. … At this point we don't even know why DHS has criteria at all, as there is no requirement or burden to prove anything on the part of the alien.

"We believe that significant numbers of people who are not dreamers are taking advantage of this practice to avoid arrest," he said.
Whether or not you agree with the immigration laws of the country, executive fiat is not the method the Constitution outlines as legitimate redress.  And, unsurprisingly, those illegals who would benefit, even if not actually eligible, will exploit an opportunity such executive fiat presents.
According to Chris Crane, that's precisely what is happening. 
The allegations from the union were expressed in unusually blunt terms Thursday.

George McCubbin, president of the National Border Patrol Council union, said the Department of Homeland Security has made it impossible for agents to do their jobs.  

Crane said it's led to disorganization and "confusion" at ICE.
Not that ICE hasn't had its share of confusion in the past, but now, it is even more difficult to do their jobs. 
Crane cited one case in which, he said, an immigrant facing criminal charges was let go under the policy. Further, he complained that officers are "under threat of losing their jobs" if they defy the policy.
Anyone who thinks this is how our system should work needs to re-examine the Constitution.  One branch creates the laws (legislative) and one branch enforces the laws (executive).  If you don't like a law or want it changed or repealed then it's back to the legislative branch.  And no, inaction by the legislative branch doesn't mean the executive branch can arbitrarily ignore the law or decide it's not going to enforce it.  Not and still be a Constitutional republic.
I'm on record saying our current immigration system sucks.  There's no reason in this day of cyber advances that we couldn't have the slickest and quickest system on earth.  And yes, I hold Congress directly responsible for the inactivity that has led to the mess at the border. 
But that doesn't give the executive license to ignore laws or selectively enforce them.   Kings do that, not presidents, and we have no kings.  We just have a president who thinks he's one.
~McQ
Twitter: @McQandO
Perhaps I'm missing something here but hasn't the main argument of this administration about the various immigration laws passed by states been that immigration is the solely the job of the Federal Government?
Isn't it true that they've challenged various state level immigration laws on those very grounds?
Nearly 1 million undocumented immigrants could live and work openly in California with little or no fear of deportation under an initiative unveiled Friday by a state legislator and others. Assemblyman Felipe Fuentes, a Democrat, is helping spearhead the measure, called the California Opportunity and Prosperity Act.

The proposal was filed Friday with the state Attorney General's Office, marking a first step toward a drive to collect the 504,760 voter signatures needed to qualify for the ballot. Fuentes called the measure a "moderate, common-sense approach" necessitated by the federal government's inability to pass comprehensive immigration reform.

"I hope this shows Washington, D.C., that if they fail to act, California will take the lead on this critical issue," Fuentes said in a written statement.
They will? 
I'm sure Eric Holder's DoJ will be asking, fairly quickly, by what right California assumes the right to do such a thing.  You know, in other states, they were at least trying to enforce existing federal law when they were challenged.  Here's a guy trying to circumvent it.  I would assume that would give the chief law enforcement officer, who has been so quick to jump on those states trying to enforce existing federal laws, to be on this guy like white on rice.
Regardless whether Californians would support such a measure, implementation would depend upon the federal government agreeing not to prosecute participants.
Well, lets see … didn't California legalize medical marijuana and didn't the feds say it didn't matter because it was against federal law to engage in such activity?  And didn't they continue to prosecute marijuana cases and raid supposed "legal" providers?
So what about circumventing federal law in this case?
Mr. Holder?
Oh, and of course, nothing could go wrong with this could it?  A "million" illegals get amnesty.  California becomes a magnet for illegals.  Pay taxes?  Why? They're illegal and there's no penalty for that.  Why fess up and pay taxes?  California has already said it's not going to deport them.  That doesn't mean they're then going to pay taxes for heaven sake.
Another brilliant idea brought to you by a  … Democrat.
~McQ
Twitter: @McQandO
One of the bits of genius installed by the founders of this country was three co-equal branches of government, each responsible for a different part of the governing turf.  And the function of the three is not only to be the primary governmental institution in its explicit area of control, but to serve as a "check" on the others and provide "balance" by not letting one branch get more powerful than another.
In the area of immigration, to this point, the executive branch, under Barack Obama, has mostly done that with notable exceptions.   But now, it appears, all appearances of following the law as laid down by Congress seems to have been thrown under the bus.   The Obama administration has, for all intents and purposes, decided what how the law will be interpreted whether Congress likes it or not.   After all, there's an election in the offing, activist groups to be satisfied and votes to be bought:
Bowing to pressure from immigrant rights activists, the Obama administration said Thursday that it will halt deportation proceedings on a case-by-case basis against illegal immigrants who meet certain criteria, such as attending school, having family in the military or having primary responsible for other family members' care.

The move marks a major step for President Obama, who for months has said he does not have broad categorical authority to halt deportations and said he must follow the laws as Congress has written them.

But in letters to Congress on Thursday, Homeland Security Secretary Janet Napolitano said she does have discretion to focus on "priorities" and that her department and the Justice Department will review all ongoing cases to see who meets the new criteria.

"This case-by-case approach will enhance public safety," she said. "Immigration judges will be able to more swiftly adjudicate high-priority cases, such as those involving convicted felons."
Right … and to totally ignore cases against illegal immigrants who meet the arbitrary standards the administration finds to be "acceptable".
This, of course, makes it clear to any illegal immigrant what the bare minimum is necessary to avoid deportation.  It's a government sponsored "okay" to stay illegally.  Just meet one of the criteria (or appear too) and we'll ignore the law for you.
However you feel about illegal immigration, we've always featured ourselves as a nation of laws, not men.   A nation of laws is one which follows laws and, if they don't like the law, feel it is fair, or whatever, go through the process of changing the law or abolishing it.   What a nation of laws doesn't do is ignore the law or arbitrarily pick and choose the parts it will follow.   Imagine, if you will, deciding that you weren't going to follow certain laws because you felt they were unfair.  Say, doing 25 in a school zone.  You tell the officer who stops you that doing 25 is not fuel efficient and you've chosen to ignore it and do 45.  How far do you think that would get you in terms of avoiding a ticket?
In this case we have an administration that has decided to pick and choose what part of laws it will enforce.  It isn't the first.  But this sort of blatant disregard for enforcing the law is both dangerous and something which needs to be stopped and stopped now.
If the executive branch finds a law to be something it has concerns or problems with, it's recourse should be changing it through the legislative body, per the Constitution.   Or taking it to the Judicial branch for a Constitutional check, if that's appropriate.  What it must not do is precisely what it is doing – ignoring Congress and literally taking the law into its own hands. 
That is the law of men – arbitrary, selective, dangerous and wrong. 
~McQ
Twitter: @McQandO
In a decision today, the Supreme Court basically upheld the portion of the Arizona state law that sanctions employers who hire illegal immigrants:
The 5-3 decision upholds the Legal Arizona Workers Act of 2007 and its so-called business death penalty for employers who are caught repeatedly hiring illegal immigrants. The state law also requires employers to check the federal E-Verify system before hiring new workers, a provision that was also upheld Thursday.

[…]

Thursday's decision is a defeat for the U.S. Chamber of Commerce, several civil-rights groups and the Obama administration, all of whom opposed the Arizona law and its sanctions on employers. They argued that federal law said states may not impose "civil or criminal sanctions" on employers.
This ruling boosts state's arguments that they have at least some rights in terms of controlling illegal immigration (particularly when the federal government refuses to act).  The three dissenters disagreed:
In dissent were Justices Stephen G. Breyer, Ruth Bader Ginsburg and Sonia Sotomayor. They said federal law prohibited states from imposing their own immigration-related rules on employers. Justice Elena Kagan sat out the case.
Of course federal law prohibits, or tries to prohibit such rules by states, but the court just changed that, didn't they?  It gives states back some of their rights and reduces the power of the federal government in an area where I think it's power needed to be reduced, particularly since it appears the problem is out of control with the fed in charge.
I have mixed feelings about the so-called "death penalty" for businesses.  I assume, or at least hope that there are appeals, etc. before it is finally imposed because such a penalty effects more than just the business owners in many cases.
By ruling that the states have the right to impose such a penalty though, illegal immigrants will find gaining employment much harder than it was before as there are few businesses who are going to figure that saving a little money hiring an illegal is worth the "death penalty" if caught.
Oh … and to save the drive by commenters the trouble – being against "illegal immigration", note the term emphasized, does not mean one is against "immigration", thankyouverymuch.
~McQ
Twitter: @McQandO
First up on the "thee but not me" list of being for "civil discourse" but not practicing it, is our old buddy from a show which should be called "Beanball", Chris Matthews.
Chris is a great proponent of "civil discourse" unless you try to apply it to him.  He is apparently attempting to repeal Goodwin's law or to so cheapen the term "Nazi" that it no longer carries the horror it should.   Mr. Moral Equivalence's latest?  Here's his intro:
Good evening. I'm Chris Matthews in Washington. Leading off tonight: Glenn Beck shoots off his mouth. Today Jared Loughner pled not guilty. So has the right wing to the charge it promotes trouble with its endless rants about guns and hatred of government. Take Glenn Beck — please. He targets what he calls radicals in Washington who, quote, "believe in communism," and "you're going to have to shoot them in the head." Gotcha!

We've got a Republican member of Congress out there going full bore on this stuff, saying he wants him and his fellow members of Congress to carry guns at the Capitol. Welcome to the State of the Union 2011. The violent rhetoric of the right won't stop. It's our top story tonight.
There's your set up – the "violent rhetoric of the right won't stop", and it's his top story.  Lead with a discredited Glenn Beck story.   Got it.
Commercial break and what do we see and hear?   A few vids of Obama, McConnell and Cantor – discussing each side's take on Obama economic policy.
And Matthews next statement?  The next one after seeing the three vids noted?
MATTHEWS: Don't you just love the new Republican Party? We have the Tea Party people with the placards and the Nazi stuff, and then you have these two Junior Chamber types representing them in Washington.
The irony bug hasn't yet found Matthews apparently.  The guy (and much of the left) are walking, talking hypocrites.  Palin is lambasted for putting crosshairs on a campaign map months ago and 3 days ago, what does Matthews and company do?  Yeah, put crosshairs on the US Capitol with the title "Fire on the Right".  Uh, the word "on" is significant when used in conjunction with a crosshairs graphic, wouldn't you say – using the left's standard for this sort of thing and all.  Notice it isn't "fire from the right" or "fire of the right" or even "fire by the right."
It is "Fire on the Right" which, one assumes, given their instant pop analysis of the Tucson shooting would mean that if any assassin of a left leaning persuasion should shoot at a politician (or anyone) on the right in the next, oh, 6 months or so, it's Matthews fault.  Because his graphic and its title told them to do so.
Right? 
Oh, and how did Matthews use the graphic?  Hypocritically, of course:
CHRIS MATTHEWS: Leading off tonight: Words and actions. Are people affected by what they hear? If not, why do people speak? If the messages people get day after day have no effect on their behavior, why do big corporations spend millions on advertising? Why do politicians? Does the daily climate of attack, the constant torrent of angry attack and questioning of loyalty, of legitimacy, of Americanness, stir people up? Does it trigger the zealots, the unstable, those who are a bit of both?

The politically correct judgment is that we can`t blame anyone for what we`ve seen recently, that words don`t matter in this discussion of people`s violent actions. But do we really believe words don`t matter, that they don`t incite, that they don`t cause trouble? Do we really believe you can say anything you want about someone and not expose them to the actions of a zealot or a nut?
Well we'll see, won't we Chris, now that using the left's standards, you've done more than enough to incite "a zealot or a nut".
Meanwhile down in GA, we have a different and appallingly ignorant revocation of Goodwin's law and even more moral equivalence:
A Spanish-language newspaper in Georgia has drawn bipartisan criticism for publishing a doctored photograph depicting the state's new governor as a Nazi.
Some whackado editor of a Spanish-language paper depicts a governor who has been in office all of a week as a Nazi.  Why?
But Navarro said the picture represents the fear immigrants in Georgia feel with the arrival of Deal to the state's top office, because of Deal's strong anti-immigrant rhetoric during the last campaign.
Well there you go.  He disagrees with Deal's political approach to the issue – which is, btw, not "anti-immigration", but against "illegal immigration" (I refuse to let the left conflate the two).  So what do you do?  Depict your political opponent as a Nazi obviously.
Nice. 
And here's the irony – the boob depicts Deal as a Nazi (and everyone knows how they dealt with opposition press) and then says:
Navarro, who immigrated to the United States from Colombia, said he printed the picture knowing he didn't have to fear retaliation from the governor because of the freedom of speech guaranteed by the U.S. Constitution.
Yeah, that happened all the time in Nazi Germany Mr. Navarro, you ignorant jackwagon. 
Yeesh … you just can't make some of this stuff up.
~McQ
The LA Times brings us yet another example of the apparent immunity to irony most folks on the liberal side of the house tend to exhibit.  This time it is the Chancellor of UC Berkeley –  an institution probably considered the cherry on top of the sundae of liberal academia.
Apparently Chancellor Robert J. Birgeneau sent out a campus-wide email in which he blamed the shooting of Rep. Giffords in Tucson on  Arizona's crackdown on illegal immigrants and the failure to pass the DREAM act.  The email was sent out Monday.  Giffords was shot the previous Saturday.
In the email, Birgeneau said, "I believe that it is not a coincidence that this calamity has occurred in a state which has legislated discrimination against undocumented persons."
Well, as a matter of fact, it is a coincidence that it happened in Arizona regardless of anyone's views on the immigration enforcement law the state passed.  In fact, it appears immigration wasn't even on Loughner's rather weirded-out radar screen.
Birgenau also made it clear he believed a "climate in which demonization of others goes unchallenged and hateful speech is tolerated" was also partly responsible for the shooting.  Subsequent revelations seem to pretty much debunk this theory.  0 for 2.
Speaking of demonization and hateful speech, Birgenau went on to say, "this same mean-spirited xenophobia played a major role in the defeat of the DREAM Act by legislators in Washington, leaving many exceptionally talented and deserving young people, including our own undocumented students, painfully in limbo with regard to their futures in this country,"
"Mean-spirited xenophobia"?  It couldn't be that many who opposed the legislation saw it as giving an unfair advantage to those who had chosen to ignore our laws over those who were playing by the rules could it?  It couldn't be that those who oppose the law have absolutely no problem with legal immigration and actually agree our system is broken and needs to be fixed, could it?
Nope, they must be "mean-spirited xenophobes" if they opposed the law.  The irony impaired say so.
By the way, this is also a great example of "projection" – another thing the left seems to be unable to spot.  Blame the other side for doing what you're caught doing, i.e. using overgeneralizations, demonization and hateful speech to attack your opponent  – while in the middle of decrying it.
It just doesn't get much better than this.
~McQ