Free Markets, Free People
Peggy Noonan makes this statement today:
What happened at the IRS is the government's essential business. The IRS case deserves and calls out for an independent counsel, fully armed with all that position's powers. Only then will stables that badly need to be cleaned, be cleaned. Everyone involved in this abuse of power should pay a price, because if they don't, the politicization of the IRS will continue—forever. If it is not stopped now, it will never stop. And if it isn't stopped, no one will ever respect or have even minimal faith in the revenue-gathering arm of the U.S. government again.

And it would be shameful and shallow for any Republican operative or operator to make this scandal into a commercial and turn it into a mere partisan arguing point and part of the game. It's not part of the game. This is not about the usual partisan slugfest. This is about the integrity of our system of government and our ability to trust, which is to say our ability to function.
First paragraph … agree, for the most part.  Where I don't agree is that there is a "minimal faith" in the revenue gathering arm of the US government.  There's been little faith in it since it's inception.  Most people understand that the gun is pointed at them and the prison cell is open and waiting.  They don't pay taxes because of any "faith" or respect for the IRS or government.  They do it out of fear.
As for the second paragraph, that's total horse hockey.  Total.
The entire point of the scandal was it targeted "political" organizations.  How does one not politicize it?  It took place under a Democratic administration and the opponents of that party were the target of the IRS.
Hello?
And what do we get from Noonan? "Hey, let's take a knife to a gun fight".
Noonan's advice is, by far, the stupidest advice one could give.
Yes, this is about the integrity of the system. And, like it or not, that is directly linked to those who administer and govern.
Ms. Noonan, who is that right now? And how, if they were doing an effective job, would this have been going on for two years. Oh, and speaking of trust, how are you with the whole AP scandal? My guess is you're wanting some heads over that.
Well, I want some heads of this. And Benghazi. And Fast and Furious.
Instead we get shrinking violets like you advising everyone to back off and not make this "political".
BS.
~McQ
I see some on the Left passing around this map showing that female mortality worsened in many counties between the early/mid-'90s and the early/mid-2000s.  (Meanwhile, male mortality only worsened in 3.4% of counties.)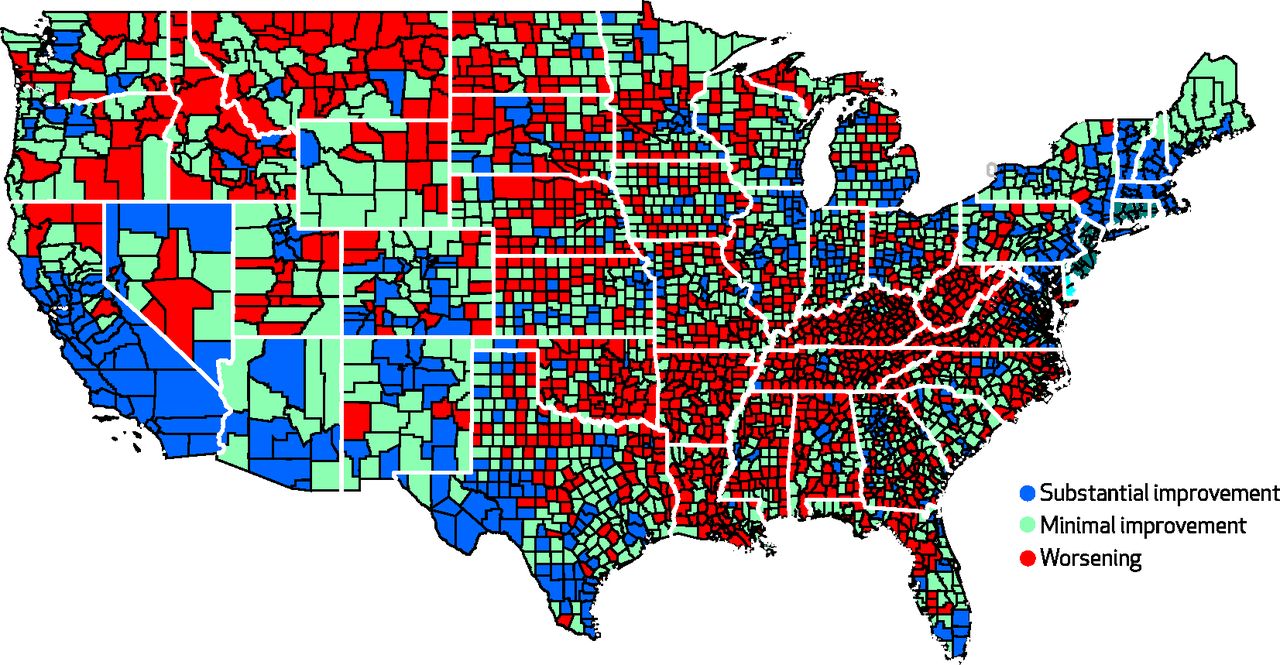 They noticed red states doing worse than blue states, and thought that this must, of course, be due to the Republican war on women™.
The mortality rate of females [worsening] in 43 percent of U.S. counties from 2002-2006 is eye-opening. This map from health researcher Bill Gardner helps you see where the worst results are typically coming from — red states and the redder parts of blue states.
It apparently did not occur to these partisans to control for a fairly simple, innocent phenomenon: old people just die more frequently than younger people.
Rural areas are aging faster as they have fewer kids who stick around – and it's mostly women left behind, since women have a longer life expectancy than men in the US.  So the mortality rate of a county could go up even if people are as healthy for their age as ever.
On the other hand, when you have an influx of young people (like in high-immigration counties), the mortality rate drops.
As evidence for this, look at the overlaps between the above map and two others:

More old people combined with fewer people in the prime of their health tends to mean a higher death rate, and vice versa.  It's not a perfect correlation, but at very least it's something that should be taken into account before blaming policy for deaths.

It certainly seems like less of a stretch than trying to blame the trend in female mortality on suicides connected to expanded gun ownership:
[A]nother study suggests that red states' high levels of gun ownership make them especially dangerous:

With few exceptions, states with the highest rates of gun ownership — for example, Alaska, Montana, Wyoming, Idaho, Alabama, and West Virginia — also tended to have the highest suicide rates.
How big of a stretch is this as a contributor to female mortality?  Two little hints:
And then there's this bold prediction:
With red states rushing to turn down the Medicaid expansion, these results will likely only get worse.
That's not outlandish as guesses go, since women consume two thirds of medical care in this country, but there's not an obvious nationwide relationship between Medicaid dependence and changes in women's mortality (though controlling for ethnicity might be a start):
Blaming the party elected by older people for higher mortality in the areas they govern is like blaming Democrats for young urbanites being more prone to violent crime than old rural farmers.  If you're not controlling for other causes, you're just trolling for partisan causes.
I wondered, when Barack Obama was re-elected, how bad you had to be to be fired.  Apparently worse than Obama, if that's possible.
Now, with the confirmation of Chuck Hagel – another politician who has never run a large or complex organization and who was abysmal in his confirmation hearings – I have to wonder how bad you have to be NOT to be hired.
Apparently, worse than Chuck Hagel, if that's possible:
Republicans siding with Democrats, the U.S. Senate voted Tuesday to confirm Chuck Hagel as President Obama's secretary of defense, a nomination that drew strong opposition within the Republican former senator's own party, with some troubled by past statements on Israel and Iran.

GOP Sens. Rand Paul (Ky.), Thad Cochran (Miss.), Mike Johanns, (Nebr.) and Richard Shelby (Ala.) supported Hagel in the 58-41 vote. No Democrats opposed him.
Again, let down by the GOP (the 'good old boy club' just couldn't say no to a former member).
Anyone seeing a pattern here?
~McQ
Seen today on an MSN newsfeed:
"Gingrich, Rove and the right for the Republican Party"
What does it say?  It says the GOP is more screwed than we ever understood.
The "old ladies" are still predominant and now are fighting among themselves and attacking the Tea Party, which should, if you believe GOP propaganda, be a natural ally. 
As long as that condition prevails, the GOP will remain a minority party in national politics.   And yes, I know, there are some new faces attempting to emerge.  But between the left, the media and the old ladies, their chances of emerging anytime soon without having their character assassinated are likely slim and none.
~McQ
I don't visit The Corner at National Review as often as I used to. Their pop-behind ads annoy me too much. But with good stuff from Jonah Goldberg, Mark Steyn, Andrew McCarthy, and a few others of that ilk, I still go by from time to time, despite the ads.
Almost as annoying as the ads are the Gentry GOP types who are constantly providing cover for establishment Republicans. Ramesh Ponnuru leads that crew. Ponnuru had a post yesterday, with a follow-on today, that both serve as a fine illustrations.
Both are about the intricate strategerizing (as another establishment Republican might put it) around the so-called fiscal cliff. I tried to understand what he was getting at. I really did. But it all just came out as complicated blather to promote some kind of go-along-get-along viewpoint. I never did understand his argument. I'm pretty sure that he wants the Republicans who blocked the last deal to get with the program and support the establishment cohort led by Boehner, but even after reading his posts through twice I still don't get *why*.
He ends the first piece with this paragraph:
That some Republicans are willing to see higher taxes for the sake of anti-tax purity is topsy-turvy enough. Adding to the vertigo: The Republicans (inside and outside the House) who fret about blurring the party's definition are the ones who are doing most to blur it. They are the ones who are, in most cases, accusing Republican leaders of seeking to raise taxes when they are actually trying to cut taxes as much as they think possible—cut them, that is, from the levels the law already has in place for 2013. They're the ones who are accusing most House Republicans of  "caving" to the Democrats, even as some of them prefer that the Democrats get their way entirely. That's where the convoluted politics of this moment have led us.
This word salad sounds like an old Dilbert cartoon to me. In it, Dilbert is asked to sign a document stating "Employee election to not rescind the opposite action of declining the reverse inclination to not discontinue employment with the company."
The Gentry GOP's equivalent seems to be "Voting for the bill to raise taxes in order to not raise taxes while electing to stand firm on not doing anything on spending while ensuring the previous action of claiming to reduce spending." Or something like that. I'm not really sure.
On stuff like this, I am a firm believer in the Asimov principle. In an introduction to one of his books, he said (approximately) "When I read something I don't understand, I don't assume I'm stupid." There are plenty of reasons for something to be incomprehensible that don't have anything to do with me:
- The author might not know what he's talking about
- The author might be a very bad communicator, and so just can't explain himself very well
- As in the Dilbert example, the author might be trying to obfuscate the issue
For the entire discussion over the fiscal cliff, from Democrats, the media, or establishment Republicans, I'm going with the last explanation. It's pretty clear at this point that the whole thing simply does not matter that much in the long term. No proposal being taken seriously will do anything to alter our long term trajectory. So the entire episode is just for political maneuvering.
That's the part Ponnuru doesn't seem to get, or at least he doesn't assign any real weight to it. He doesn't understand why twenty or so Republicans just won't go along with the gag.
I get it completely. They have the intuition that they are being gamed.
Analyzing the details doesn't help, because those details are intentionally confusing, and leave entirely too much room for statists to make things come out the way they want later.
If you've ever been subjected to the car salesmen who insists that this wonderful deal he's offering you won't be good tomorrow, you know the dynamic here. Those in the GOP who won't go along with the game sense that the ruling class is using the same technique, with the fiscal cliff deadline as the nominal justification.
In general, I'm sick of any argument by an establishment GOP type that it's necessary to do X to avoid being blamed for Y. Much of this fiscal cliff discussion seems to be in that vein. I'm sick of it because it pre-supposes that there is a path where the GOP won't be blamed for the bad things that happen. That's ridiculous.
Because we're served by the worst political class ever:
President Obama'slead negotiator in the "fiscal cliff" talks said the administration is "absolutely" willing to allow the package of deep automatic spending cuts and across-the-board tax hikes to take effect Jan. 1, unless Republicans drop their opposition to higher income tax rates on the wealthy.

Treasury Secretary Timothy Geithner said in an interview with CNBC that both sides are "making a little bit of progress" toward a deal to avert the "cliff" but remain stuck on Obama's desired rate increase for the top U.S. income-earners.

"There's no prospect for an agreement that doesn't involve those rates going up on the top two percent of the wealthiest," Geithner said.
Apparently there is no way to raise the desired revenue, at least according to Obama/Geithner, that "doesn't involve those rates going up on the top 2%".  No way.
Oh, wait …
What we said was give us $1.2 trillion in additional revenues, which could be accomplished without hiking taxes — tax rates, but could simply be accomplished by eliminating loopholes, eliminating some deductions and engaging in a tax reform process that could have lowered rates generally while broadening the base.
Say, wasn't that President Obama in July of 2011 at a press conference?  Why yes it was.  So there is a way, but he and apparently his "negotiator" refuse to pursue it (btw, no I"m not fooled by the illusion that this isn't just as much a tax hike as what they're proposing)?  It that what is happening?
Why yes, yes it is.  So there is another way to do this, apparently.  Unless our President was telling a tall one about what he'd be willing to do in July?  Yeah, I know, perish the thought.  Lie to us?  Unthinkable.
Instead according to Turbo Tax Timmy, they'd "absolutely" take us over the cliff, because, you know, raising taxes on the "rich" is now the only acceptable position.  You and your life?  You're a mere pawn for these poppinjays.  They're fine with playing with your life and livelihood to score a political win.   They have no problem holding your life and property ransom and using your future to force their desired resolution.  But if we go over the cliff, screw you.
Meanwhile, in the House, Speaker Boehner continues to look for a comfortable place to lie down and surrender.
In the Senate the GOP actually tried to bring the President's proposal to a vote and Majority Leader Reid denied it.  Because it was, per Reid, a "stunt".
This is all a "stunt".    A miserable stunt perpetrated by a miserable group of people who have no concept of leadership or service to their country but are long on ego and party.
It is the price of always voting for the "lesser of two evils".
Screw 'em.
~McQ
Here is a good example of what is wrong with politics today – this time from the right:
Sen. Saxby Chambliss (R-Ga.) on Saturday defended his decision to break with conservative activist Grover Norquist's anti-tax pledge, telling constituents he would not be "dictated to by anybody in Washington."

"I think that you sent me to Washington to think for myself. And I want to vote the way you want me to vote," Chambliss said to a group of local constituents at a Cobb County Republican party event, according to the Atlanta Journal-Constitution. "I don't want to be dictated to by anybody in Washington, as to how I'm going to vote on anything."
You see, Chambliss doesn't seem to get the basic point: he made a pledge.  HE made a pledge.  Not someone else – him.  He didn't have his arm twisted behind his back when he made the pledge.  He did so voluntarily.  The dirty little secret, however, is he didn't make the pledge out of principle, he made the pledge because it was politically helpful and expedient to do so at the time.
Now he wants to back out of his pledge.  It is no longer expedient or helpful politically.   He, like our President, is trying to blame the predicament he finds himself in – i.e. breaking a voluntary pledge – on someone else.  It's their fault he's in this predicament.  And by gosh he won't "be dictated to by anybody".
Well he hasn't been dictated to by anyone.  Again,  he voluntarily took a pledge back when it was politically helpful and popular to do so.  Now he wants to bail on it.  I don't know about you, but when I pledge something, I give my unbreakable word I'll do what I pledge to do.  I don't enter into them lightly.  And I do everything in my power to live up to the pledge.
It's about honor.
But apparently that's a concept that is passe in today's political world.
Go ahead Mr. Chambliss.  Break your pledge.  But remember what happened when a certain president bailed on his no new taxes pledge?
I can only hope I'll be part of the lesson teaching when your time for re-election comes.  Then, by Georgia, you'll be "dictated too" by the people of this state.  And you'll be looking for new work.
~McQ
When is the GOP (and the public) going to learn?
How many times have we heard that the only thing standing in the way of a grand bargain to reduce our growing national debt is Republican intransigence on taxes? If Republicans would only agree to dump Grover Norquist, Democrats will agree to cut spending and reform entitlements. Then, we can all join hands and sing Kumbaya as we usher in a new era of compromise and fiscal responsibility.

Except that now that Republicans have agreed to raise taxes, er, revenue, as part of an agreement to avoid the looming fiscal cliff, liberals appear to have decided that there really isn't a need to cut spending after all.
Yup, in fact they've taken entitlement reform "off the table".
Senate Democratic leaders signaled Tuesday they would not agree to any entitlement reforms before the end of the year that cut spending on Medicare and Medicaid beneficiaries.

They also said that any year-end deal to avoid the expiration of tax cuts and implementation of spending cuts — known as the fiscal cliff — must include a provision to raise the debt ceiling, which would otherwise have to be addressed early next year.

The White House and Reid have indicated they will not consider cuts to Social Security, a notable change from 2011, when President Obama said "everything is on the table," including entitlement programs dear to his party's base.
In other words, we're back to "tax the rich", raise the debt ceiling and spend, spend spend.  Meanwhile, it is left up to the GOP to "compromise" by breaking the tax pledge (led by the Judas goats, Saxby Chambliss and Lindsey Graham) or be forever branded as the intransigent "bad guys" in this.
Meanwhile, low information Americans who, by over 60% approve of taxing the rich, will buy the spin by the press painting the GOP as the cause/reason for the calamity while Democrats "lament" the problem ("but, hey, that's now the law thanks to Republicans") and gleefully rub their hands in delight at all the new revenue they'll have to "redistribute".
Some things never change, do they?
~McQ
Rob Port throws up a couple of graphs that show that, as most of us have been saying for quite some time, it's not a revenue issue causing the Federal Government's deficit problem – it's a spending issue.
Per Port, since 2009, tax revenues are up 19%.
So how does one get the message across to government that it must live within it's means if it gets a tax increase without spending cuts?
You don't.   You just encourage it to push for more.  Already "millionaires" are defined as those making $250,000 a year.
But let's make excuses for the GOP's capitulation, shall we (the hapless GOP, which will get blamed if we go over the fiscal cliff or if we avoid it and everything crashes anyway)?
Apparently the new conventional wisdom, "spend till your wallet bleeds and then break out the credit cards" has repealed the laws of economics once again.  Ask Paul Krugman if you don't believe it.
~McQ