Free Markets, Free People
To be fair, they don't understand how most things work, especially when there's math involved, but this particular quirk is quite annoying.
I remember the first time I came across this general ignorance (see the comments), in a West Wing episode:
Actual dialog from a recent West Wing rerun:

Josh: What do I say to people who ask why we subsidize farmers when we don't subsidize plumbers?
Farmer's daughter 1: Tell 'em they can pay seven dollars for a potato.

Yes, I know it's a TV show, but do people actually think like this? I always assumed that the reason we couldn't get rid of farm subsidies was rent seeking by the farmers, but if people actually believe this, that could be part of the problem.
Yes, people actually do believe this. Indeed, here is David Sirota spouting the same ignorance:
GOP meat eaters aren't free market – they want everyone to subsidize their eating via taxes that fund meat subsidies.

Among best ways to reduce meat consumption is to end ag subsidies so that the cost of meat is a true free market price – think: $9 burgers
David also makes the correct point that some GOP congressmen vote to keep these subsidies in place (particularly those in states with farms that benefit the most from them), but that doesn't alleviate the complete misunderstanding of what these subsidies do.
In short: agricultural subsidies don't reduce consumer prices, but instead raise them.
In fact, the entire point of these subsidies is to set minimum price levels (often called "price supports") or trade barriers that create an artificial monopoly. The entire milk industry, as an example, is propped up with such subsidies. Why else do you think it costs about as much for a gallon of milk as does for a gallon of gas?
Although there had been several different forms of subsidies in the U.S. prior to the 1930′s, most were simple tariffs. When the Great Depression began, the Roosevelt Administration sought to prop up the nation's farmers by raising their incomes. How did they propose to do that? Mainly by setting minimum prices and production quotas (remember Wickard v. Filburn?):
When Franklin D. Roosevelt was inaugurated president in 1933, he called Congress into special session to introduce a record number of legislative proposals under what he dubbed the New Deal. One of the first to be introduced and enacted was the Agricultural Adjustment Act. The intent of the AAA was to restore the purchasing power of American farmers to pre-World War I levels. The money to pay the farmers for cutting back production by about 30 percent was raised by a tax on companies that bought farm products and processed them into food and clothing.

The AAA evened the balance of supply and demand for farm commodities so that prices would support a decent purchasing power for farmers. This concept was known as "parity."

AAA controlled the supply of seven "basic crops" — corn, wheat, cotton, rice, peanuts, tobacco, and milk — by offering payments to farmers in return for farmers not planting those crops.

The AAA also became involved in assisting farmers ruined by the advent of the Dust Bowl in 1934.

In 1936 the Supreme Court, ruling in United States v. Butler, declared the AAA unconstitutional. Writing for the majority, Justice Owen Roberts stated that by regulating agriculture, the federal government was invading areas of jurisdiction reserved by the constitution to the states, and thus violated the Tenth Amendment. Judge Harlan Stone responded for the minority that, "Courts are not the only agency of government that must be assumed to have capacity to govern."

Further legislation by Congress restored some of the act`s provisions, encouraging conservation, maintaining balanced prices, and establishing food reserves for periods of shortages.

Congress also adopted the Soil Conservation and Domestic Allotment Act, which encouraged conservation by paying benefits for planting soil-building crops instead of staple crops. The rewritten statutes were declared constitutional by the Supreme Court in Mulford v. Smith (1939) and Wickard v. Filburn (1942).

During World War II, the AAA turned its attention to increasing food production to meet war needs. The AAA did not end the Great Depression and drought, but the legislation remained the basis for all farm programs in the following 70 years.
The entire point of these subsidies is to increase the incomes of farmers. It has never had anything to do with making the price of a potato or a hamburger cheaper for consumers. By design, these programs intend to raise the price for agricultural products, as well as to transfer dollars from taxpayers to farmers.
How liberals like David Sirota and Aaron Sorkin came to think the exact opposite is puzzling. As Ronald Reagan said: "It isn't so much that liberals are ignorant. It's just that they know so many things that aren't so."
I see some on the Left passing around this map showing that female mortality worsened in many counties between the early/mid-'90s and the early/mid-2000s.  (Meanwhile, male mortality only worsened in 3.4% of counties.)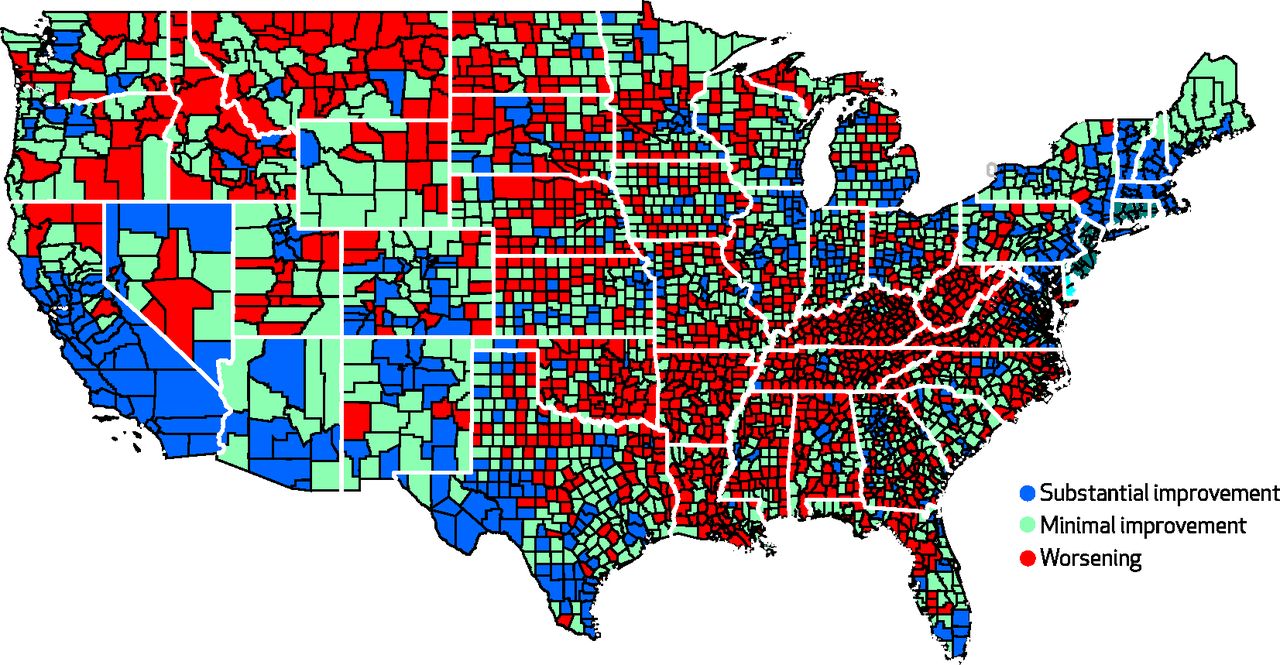 They noticed red states doing worse than blue states, and thought that this must, of course, be due to the Republican war on women™.
The mortality rate of females [worsening] in 43 percent of U.S. counties from 2002-2006 is eye-opening. This map from health researcher Bill Gardner helps you see where the worst results are typically coming from — red states and the redder parts of blue states.
It apparently did not occur to these partisans to control for a fairly simple, innocent phenomenon: old people just die more frequently than younger people.
Rural areas are aging faster as they have fewer kids who stick around – and it's mostly women left behind, since women have a longer life expectancy than men in the US.  So the mortality rate of a county could go up even if people are as healthy for their age as ever.
On the other hand, when you have an influx of young people (like in high-immigration counties), the mortality rate drops.
As evidence for this, look at the overlaps between the above map and two others:

More old people combined with fewer people in the prime of their health tends to mean a higher death rate, and vice versa.  It's not a perfect correlation, but at very least it's something that should be taken into account before blaming policy for deaths.

It certainly seems like less of a stretch than trying to blame the trend in female mortality on suicides connected to expanded gun ownership:
[A]nother study suggests that red states' high levels of gun ownership make them especially dangerous:

With few exceptions, states with the highest rates of gun ownership — for example, Alaska, Montana, Wyoming, Idaho, Alabama, and West Virginia — also tended to have the highest suicide rates.
How big of a stretch is this as a contributor to female mortality?  Two little hints:
And then there's this bold prediction:
With red states rushing to turn down the Medicaid expansion, these results will likely only get worse.
That's not outlandish as guesses go, since women consume two thirds of medical care in this country, but there's not an obvious nationwide relationship between Medicaid dependence and changes in women's mortality (though controlling for ethnicity might be a start):
Blaming the party elected by older people for higher mortality in the areas they govern is like blaming Democrats for young urbanites being more prone to violent crime than old rural farmers.  If you're not controlling for other causes, you're just trolling for partisan causes.
Do you remember the promises?  When Obama took over, the Middle East would come to love the US again.  As Obama, famously declared in his 2009 Cairo speech, his election meant a "new beginning" with the Muslim world.
The truth, however, is much uglier:
President Obama's first journey to Israel as president comes amid earth-shattering change in Middle East, much of it for the worse. The Arab Spring, which once raised hopes of freedom and dignity, has diverged onto the dark path of Islamist authoritarian rule. In Syria, tens of thousands of people have died in a bitter civil war that might have recently seen its first use of chemical weapons. And Iran continues its march toward nuclear weapons capability, heedless of international condemnation. Obama's effort to seek peace between Palestinians and Israelis is in tatters.
And Libya?  One word: "Benghazi".
How about the much anticipated and promised love fest that would occur after that mean old George W Bush was retired and The One waved his mighty hand and blessed his own Middle East policy?  Yeah, it hasn't quite worked out that way:
According to the latest survey by the Pew Research Center's Global Attitudes Project, confidence in Obama in Muslim countries dropped from 33% to 24% in his first term. Approval of Obama's policies declined even further, from 34% to 15%. And support for the United States in Egypt, Jordan, Lebanon and Pakistan is lower today than it was in 2008 in the closing year of George W. Bush's administration.
Israel, our closest and most important ally in the area isn't much enamored with Obama:
Of all the strained relationships in the Middle East, the partnership with Israel is the most important and potentially the most easily repaired. Obama is not popular in the country. A poll released last week showed he had a scant 10% approval rating in Israel, with an additional 32% saying they respect but don't like him.
And, if the tactic of stiffing Israel had the intent of winning popularity among Palestinians, that too hasn't worked:
If Israelis don't like Obama, Palestinians are even less favorable.Washington's perceived failure to take a harder line with Israel over the final status of Jerusalem, and U.S. opposition to President Mahmoud Abbas' successful campaign for higher Palestinian status in the United Nations, have engendered a deep sense of frustration. Passions spilled over in Bethlehem this week, when young Palestinians defaced a billboard with Obama's image and burned pictures of him in the streets. Obama's symbolic nods to Israel's history are likely to raise Palestinian ire even further.
In fact, none of the administration's policy initiatives have had any positive impact, or, for the most part, any impact at all (despite a fawning media telling us how wonderful a SecState Hillary Clinton was, this is her legacy too).
So, what will Obama do today in Israel?  What he usually does.  Make a speech:
The hope that Obama will say the right things in Thursday's speech at Jerusalem's convention center is negated by doubts he will follow through. The president has to assure Israelis and Palestinians that he is still engaged if the peace process has any chance of moving forward. In part, this means convincing them that he still matters.
Key point emphasized.  If you've watched Obama even casually over the past years, you can't help but have noticed that he's very strong on "talking the talk", but hardly ever "walks the walk".  He doesn't know how.
And there's absolutely no reason this particular issue will see him even attempt it now.  Oh, he'll say the "right things". That's what he does. His problem is he never then does the "right things".  Rhetoric is his action.  It's for the history books, not as a guide to leadership.  He's not a leader.
But you know that.  And the results of that lack of leadership are evident for all to see in the Middle East.
~McQ
I'm sure that doesn't surprise anyone particularly.  A) it's Obama and B) he's a politician who has yet to quit campaigning (mostly because he hasn't a clue how to govern).
What am I talking about?  His attempt to claim responsibility for the fact that fossil fuel production is up under his watch and he's somehow responsible for that.
Yes, it is, but that has absolutely nothing to do with him or his policies.   The Congressional Research Service has apparently made that official now:
The Congressional Research Service has released a report finding that, as was already generally known, U.S. oil and gas production has increased substantially over the past four years, but on private lands only, while it's actually declined on federal land.
Or said another way, where Obama had control and the opportunity to do what he is claiming, he declined that opportunity and in fact impeded further exploration and production with his policies.  Where he had no real control, production boomed.  Federal lands – nada.  Private lands – bunches and bunches.
What has he sacrificed with his anti-fossil fuel polices?  Revenue and jobs.
Again, you have to wonder anymore what it takes to be fired.
~McQ
In the wake of sequestration, an opportunity to do the right thing for this country arises.  Unfortunately, it arises within an administration ideologically, and therefore adamantly, opposed to the idea of more fossil fuel:
Today the State Department released yet another positive environmental review for the northern portion of the Keystone XL pipeline project. The State Department approved the original pipeline route through Nebraska, which was supposedly less environmentally friendly, without any problems.

It is no surprise, then, that the State Department also seems to look favorably on this second iteration of the project in this fourth report—a report that should have been unnecessary. For the record, the pipeline also received a stamp of approval from Nebraskans.
Yes, that's right, the Obama State Department has given the Keystone XL pipeline favorable reviews before.  It has been the executive, in this case, arbitrarily overruling the reports, inserting himself in a process he really has no business in and delaying the project.
IER senior VP Daniel Kish sums it up pretty well:
"This is, as President Obama says, 'a teachable moment.'  It teaches us why our government's policies continue to stifle job creation, investment and new energy sources and instead spends valuable time and increasingly limited resources studying things to death.

"While we welcome this report, we also note this is the 4th such environmental report on the Keystone XL pipeline proposal and since it is only a "draft" there will be at least 5 federal environmental studies before a decision is made by our government on the pipeline. The Canadian government made a decision in 6 months; our government has taken 54 months so far.  This is an abject lesson in why – when it comes to energy – no one wants to deal with our government.  This is evident also by

continuing falling production on federal lands

at the same time U.S. oil and gas production on non-federal lands makes historic gains.  It is time for our Leaders to make a decision….Canada's did a long time ago.  Too many are hurting and too much is at stake for any more time or money to be wasted on trivial matters and long addressed and re-addressed chimeras advanced by opponents of any and all affordable sources energy."
54 months, numerous positive reports and counting.  Canada, meanwhile, has moved on, planning, while we dither, to sell it's product to China.  Pipelines don't have to run through other countries which make life difficult, they can run only in Canada, to their coast for shipment to the Far East.
What is Obama delaying?
The project will accommodate up to 830,000 barrels of oil per day, create some

179,000 jobs on American soil

, and continue good trade relations with a close ally. The benefits won't stop with the oil sector, though—the Keystone project will have a positive ripple effect even in areas without the pipeline that will provide goods and services to support the pipeline.
And where do we stand in the wake of this latest favorable report?
Before any real decision is made, there will be a 45-day comment period and some time for the State Department to consider the comments. Then the notably anti-carbon Secretary of State, John Kerry, will give his recommendation and the final decision will lie with the President.
Any feeling of confidence that this administration, no matter how late in the game, will make the right decision isn't exactly surging in me right now.
More than anything, it's just sad that the lives and livelihoods of so many Americans rest in the incompetent hands of Barack Obama and John Kerry.
~McQ
"Going green" and "climate change" certainly are interlinked parts of a political agenda that have nothing to do with public opinion or will.  In fact:
Seventeen years of continuous surveys covering countries around the world show that people not only do not care about climate change today – understandably prioritising economic misery – they also did not care about climate change even back when times were good. The new information comes in a study released by the National Opinion Research Center at the University of Chicago – a large, long-standing and respected non-profit. The NORC spokespersons said that decades of climate alarmism have had basically no effect on people's attitude around the world.
Part of that has to do with the fact that they've heard it all before.  Dire predictions about population growth that have come to naught.  Warnings about using up the earth's resources which have proven to be false. Ozone holes. Melting icecaps. Yatta, yatta.
Climate change is just the latest among the apocalyptic prophesies and as the real science – not Al Gore "science" – comes out, fewer and fewer people are staying on the bandwagon.
Of course the promise was a "green economy" in which everyone would benefit.  How's that worked out?  Well we know how it has worked out in Spain.  Germany is now finding out how mistaken they were to go in that direction.  In fact:
Energy, manufacturing and agriculture are playing a major role in the corridor states' revival. The resurgence of fossil fuel–based energy, notably shale oil and natural gas, is especially important. Cheap U.S. natural gas has some envisioning the Mississippi River between New Orleans and Baton Rouge as an "American Ruhr." Much of this growth, notes Eric Smith, associate director of the Tulane Energy Institute, will be financed by German and other European firms that are reeling from electricity costs now three times higher than in places like Louisiana.
Interesting.  It is another reason why they're also putting manufacturing plants in the US, mostly in Red States.  Skilled labor, right to work and cheap energy.  Obviously neither the "right to work" nor cheap energy are part of any Obama administration design.
And how is it going for green jobs more locally?  Well, the usual state can be consulted for an update on what such a move has wrought and demonstrate for all to see why "going green" is a foolish road to travel – at least in the near future.
It was supposed to be the next big thing. California built decades of broad-based prosperity from the Gold Rush, then Hollywood, then aerospace, and later Silicon Valley. At the turn of the century, "green jobs" were supposed to be the wave of the future. How is that going for them? According to the best numbers from the Bureau of Labor Statistics, fewer than 2,500 green jobs have been created in California since 2010.
Wow … bask in the success!  Government again demonstrates how poorly it does picking winners and losers.  Not that such failures ever hinder the central planners from using your dollars to try again.  What's Einstein's definition of insanity?
Meanwhile, the "success" of green energy has brought California to a point where it will have to fish or cut bait very soon:
California is weighing how to avoid a looming electricity crisis that could be brought on by its growing reliance on wind and solar power. At Tuesday's meeting, experts cautioned that the state could begin seeing problems with reliability as soon as 2015.
Of course, had we heeded the experience of others, we likely wouldn't see California going through this nonsense:
The former chancellor Lord Lawson has urged the Government to keep Britain's coal-fired power stations working for as long as was needed to avoid any short-term power shortages. In a House of Lords debate on energy policy and electricity generation Lord Lawson also called on ministers to give "every encouragement  it can" to the quickest possible development of shale gas supplies. Lord Lawson urged energy and climate change minister Baroness Verma to assure the House that "if the need arises our coal-fired power stations will be kept open as long as is necessary, regardless of the European combustion plants directive".
But our dauntless leaders never learn from others.  Just as with healthcare, they seem bound and determined to recreate the failure of others.
We have abundant fossile fuel resources.  They would generate both jobs and revenue for government.  Wind and solar, while great in theory, have in practice been shown to be woefully inadequate to our needs.  We even have communities wanting wind turbines taken down due to health concerns.
Yet our government and this administration continue to pursue an "energy policy" which is detrimental to the welfare of this nation despite a state that has done everything they want to do nationally and is a dismal failure because of it.  They are bound and determined to make all 50 states Californias.
~McQ
Because of their false agenda, that's why.   They're still convinced that, despite 17 years of no warming (as recently admitted by the head of the IPCC), oil is bad and "green" is good and that they're doing something to save the world.  Disregard the fact that green is still unviable.  Disregard the fact that everywhere it has or is being pushed, energy costs are skyrocketing.  Nevermind the fact that we are sitting on a sea of fossile fuel products that we only need to access.  Screw the fact that science can find no discernable warming.  Their minds are made up.
That said, there's also the fiscal side of the house.  The debt.  The deficit.  And the demand by Democrats to raise more revenue.
Unfortunately, because of their agenda, they're likely to completely screw up a golden opportunity to bring in much more revenue and drive energy prices down, because their agenda is against fossile fuel.  And we all know the party agenda comes before what is best for the country.
Enter the administration with a renewed plan to tax oil companies instead of opening access to the vast natural riches we enjoy.  The result?  Well this chart will help you comprehend the vast differences in the two policy choices (full size here):
So the either/or is "tax 'em or open access".  The difference:
According to a 2011 study by Wood Mackenzie, increased oil and natural gas activity underpro-access policies would generate an additional $800 billion in cumulative revenue for government by 2030. The chart puts into perspective the size of these accumulating revenues – enough to fund entire federal departments at various points along the timeline. By contrast, Wood Mackenize also found that hiking taxes on oil and natural gas companies would, by 2030, result in $223 billion in cumulative lost revenue to government.
It only proves the old saw -"If you want more of it, reward it and if you want less, tax it".  Think about it – money to help run government and pay down the debt (not to mention the thousands, if not millions of jobs created) being passed up in the name of false science and agenda politics.
Meanwhile, we'll be left in the cold and the dark, thanks to agenda driven policies with no foundation in reality.
~McQ
One of the most useful things I've learned about communication is the importance of stating things plainly and concretely.*  But thinking about that lesson frequently makes politics maddening.
Euphemisms are the health of politics.  If a government really wants to get away with murder, even secrecy can be less useful than making that particular murder sound unremarkable, justifiable, sensible, or even dutiful.
I continue to be stunned by the apparent willingness of all involved on the left to whistle past the graveyard when it comes to understanding what our fiscal governmental problem is and how to fix it.  Here … let's try a picture:
Oh, look … it's spending.  Specifically, spending on entitlements and interest on the money we've borrowed to do so.  And what are we talking about cutting?  The military, of course.  Because, you know, it is in the blue slice of the pie.  Make sense?
Pac Man's revenge.  By 2050, he will have swallowed all of the blue.
But, hey, it's "absurd" to argue about raising the debt limit. By the way, does anyone remember when Sen. Obama declared that raising the debt limit signaled a failure in leadership?
Ahem …
~McQ
I hate to say "I told you so", but it isn't just the rich who will be paying increased taxes. And what should be clear to anyone with the I Q of a turnip, is that this will cost people their jobs.
The compromise called for taxes to rise to 39.6% from 35% on personal income above $400,000. In a 2011 study, the Treasury Department found that raising taxes on incomes over $500,000 would affect roughly 750,000 small businesses organized as S-Corps, partnerships and other small entities.
Of course, you remember the Democrats claiming that this wouldn't affect small businesses. Well, that was a flat out lie. But then we live in an era of lies which, if there political apparently, we're willing to overlook. While most of us are. I just had to be one of those who isn't.   Not that Democrats are the only political liars, but they seem to be the most prolific and the most blatant. Especially when it comes to budget, deficit, and financial matters. They are the quintessential "snake oil" salesman.
And they have sold us are huge bottle of snake oil.
Couple these tax increases with the Obamacare taxes that kicked in on the 1st, and you have two reasons for 750,000 small businesses not to hire. And you can bet none of them will go over 50 employees, and some may even reduce staff to get under that number.
These are your "rich". They happen to be the "rich" would generate jobs, or what have, if they hadn't been hit by two new taxes this year.
Your government at work.
~McQ