Red states
I see some on the Left passing around this map showing that female mortality worsened in many counties between the early/mid-'90s and the early/mid-2000s.  (Meanwhile, male mortality only worsened in 3.4% of counties.)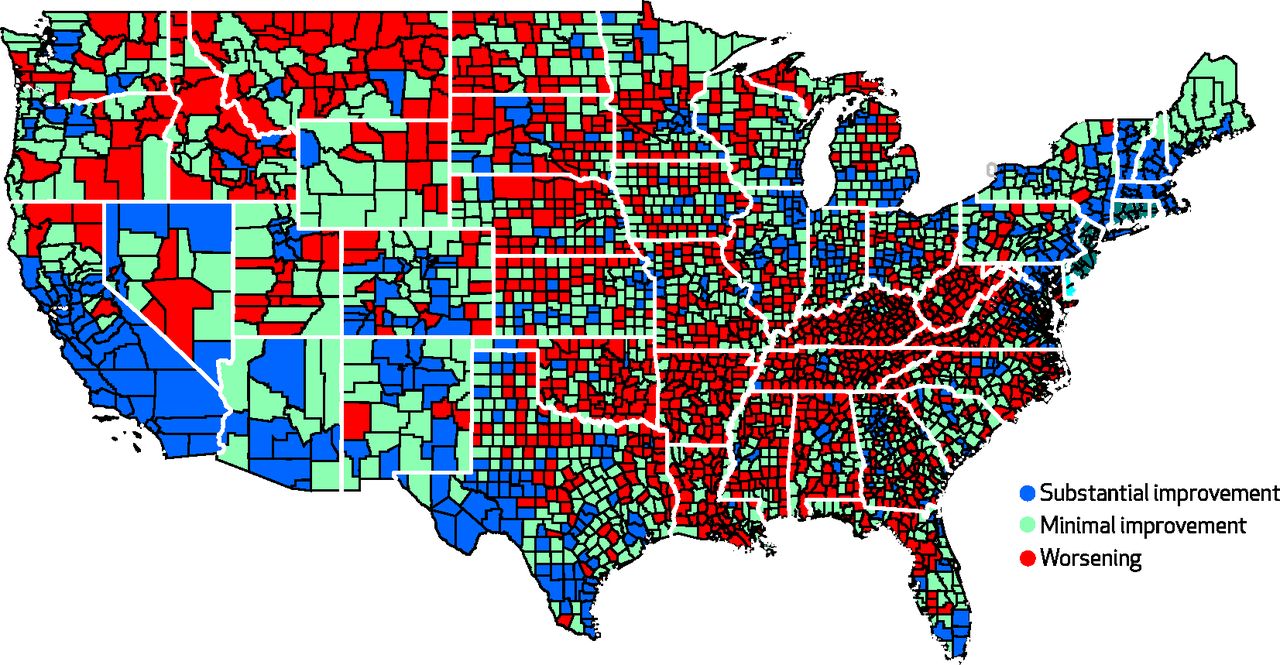 They noticed red states doing worse than blue states, and thought that this must, of course, be due to the Republican war on women™.
The mortality rate of females [worsening] in 43 percent of U.S. counties from 2002-2006 is eye-opening. This map from health researcher Bill Gardner helps you see where the worst results are typically coming from — red states and the redder parts of blue states.
It apparently did not occur to these partisans to control for a fairly simple, innocent phenomenon: old people just die more frequently than younger people.
Rural areas are aging faster as they have fewer kids who stick around – and it's mostly women left behind, since women have a longer life expectancy than men in the US.  So the mortality rate of a county could go up even if people are as healthy for their age as ever.
On the other hand, when you have an influx of young people (like in high-immigration counties), the mortality rate drops.
As evidence for this, look at the overlaps between the above map and two others:

More old people combined with fewer people in the prime of their health tends to mean a higher death rate, and vice versa.  It's not a perfect correlation, but at very least it's something that should be taken into account before blaming policy for deaths.

It certainly seems like less of a stretch than trying to blame the trend in female mortality on suicides connected to expanded gun ownership:
[A]nother study suggests that red states' high levels of gun ownership make them especially dangerous:

With few exceptions, states with the highest rates of gun ownership — for example, Alaska, Montana, Wyoming, Idaho, Alabama, and West Virginia — also tended to have the highest suicide rates.
How big of a stretch is this as a contributor to female mortality?  Two little hints:
And then there's this bold prediction:
With red states rushing to turn down the Medicaid expansion, these results will likely only get worse.
That's not outlandish as guesses go, since women consume two thirds of medical care in this country, but there's not an obvious nationwide relationship between Medicaid dependence and changes in women's mortality (though controlling for ethnicity might be a start):
Blaming the party elected by older people for higher mortality in the areas they govern is like blaming Democrats for young urbanites being more prone to violent crime than old rural farmers.  If you're not controlling for other causes, you're just trolling for partisan causes.
In light of Michal Lind's fantasy about the South, another indicator of how wrong he is:
State Farm, the nationally-known insurance chain headquartered in Bloomington, Illinois, has apparently had its fill of "The Land of Lincoln's" confiscatory taxes.  The 800 million dollar company is reported to have purchased "substantial workspace" in the Dallas, Texas area. The giant insurance firm's workers are being kept in the dark reportedly to avoid "alarming them"; but is it their workers or the State of Illinois they would like to keep in the dark about this move? If this doesn't signal State Farm's coming dash out of Illinois's clutches, what could it mean?

A knowledgeable Dallas real estate insider has called this impending move "a major business relocation" of record-breaking proportions. The numbers involved are approximately 2.5 million square feet of workspace and thousands of workers. No company in Dallas' history has made a move this large.

Texas isn't the only state State Farm is running to. There has also been a report that it has leased office space in Atlanta. The combined amount of both new locations roughly equals the 3.5 million square feet it has in Bloomington.
Why?
These moves should come as no surprise to anyone.  In spite of (or maybe because of) raising its corporate and personal income tax rate by 67% in 2010, Illinois has seen its credit rating fall and its deficit raise.  A review of the tax structure in Georgia shows the personal and corporate income tax is 4% as compared to Illinois' 6.25%.

Texas has no personal or corporate income tax.
But, you know, the South has just replaced physical slavery with economic slavery – and all those Texans and Georgians who will benefit from employment with State Farm after the move know that only too well, don't they? /sarc
I'm sure the taxes are just part of the reason.  Most likely the complete business atmosphere in the South is more likely the draw.  A welcome mat instead of a outstretched hand have to be appealing.  The same thing is happening in a number of northern states – the difference being the fiscal mess of today coupled with the difference in Blue state remedies vs. Red state remedies has started to turn a trickle exiting Blue states into a flood.
~McQ