rural flight
I see some on the Left passing around this map showing that female mortality worsened in many counties between the early/mid-'90s and the early/mid-2000s.  (Meanwhile, male mortality only worsened in 3.4% of counties.)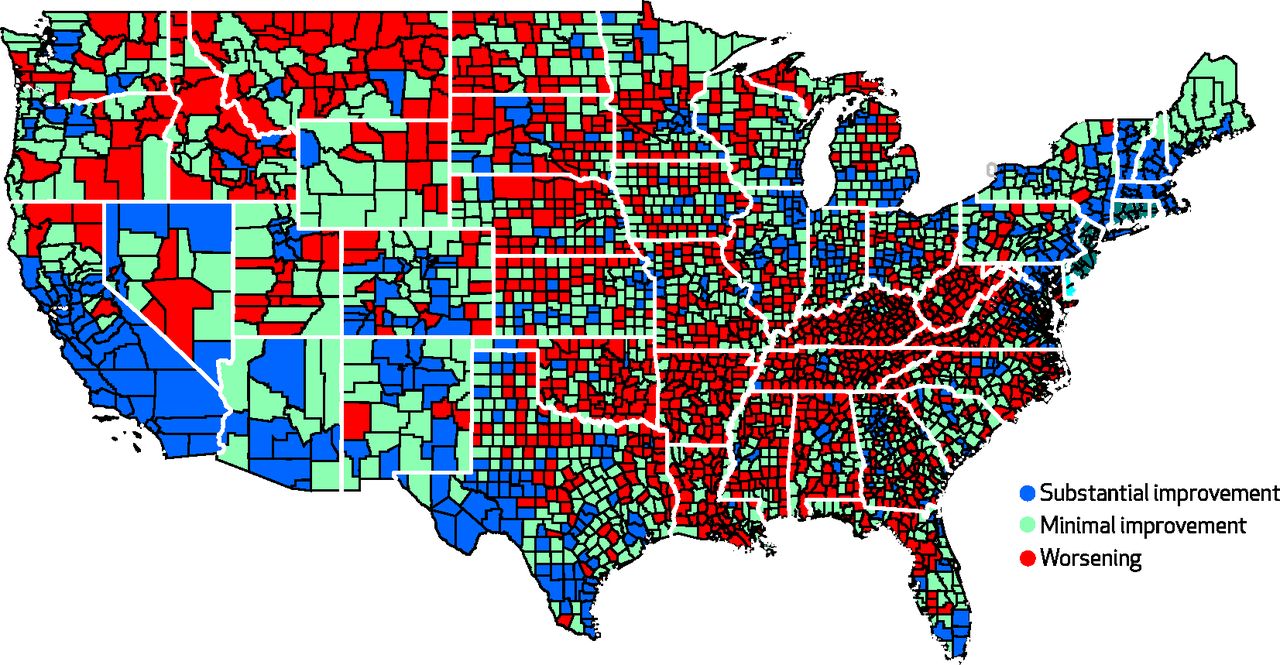 They noticed red states doing worse than blue states, and thought that this must, of course, be due to the Republican war on women™.
The mortality rate of females [worsening] in 43 percent of U.S. counties from 2002-2006 is eye-opening. This map from health researcher Bill Gardner helps you see where the worst results are typically coming from — red states and the redder parts of blue states.
It apparently did not occur to these partisans to control for a fairly simple, innocent phenomenon: old people just die more frequently than younger people.
Rural areas are aging faster as they have fewer kids who stick around – and it's mostly women left behind, since women have a longer life expectancy than men in the US.  So the mortality rate of a county could go up even if people are as healthy for their age as ever.
On the other hand, when you have an influx of young people (like in high-immigration counties), the mortality rate drops.
As evidence for this, look at the overlaps between the above map and two others:

More old people combined with fewer people in the prime of their health tends to mean a higher death rate, and vice versa.  It's not a perfect correlation, but at very least it's something that should be taken into account before blaming policy for deaths.

It certainly seems like less of a stretch than trying to blame the trend in female mortality on suicides connected to expanded gun ownership:
[A]nother study suggests that red states' high levels of gun ownership make them especially dangerous:

With few exceptions, states with the highest rates of gun ownership — for example, Alaska, Montana, Wyoming, Idaho, Alabama, and West Virginia — also tended to have the highest suicide rates.
How big of a stretch is this as a contributor to female mortality?  Two little hints:
And then there's this bold prediction:
With red states rushing to turn down the Medicaid expansion, these results will likely only get worse.
That's not outlandish as guesses go, since women consume two thirds of medical care in this country, but there's not an obvious nationwide relationship between Medicaid dependence and changes in women's mortality (though controlling for ethnicity might be a start):
Blaming the party elected by older people for higher mortality in the areas they govern is like blaming Democrats for young urbanites being more prone to violent crime than old rural farmers.  If you're not controlling for other causes, you're just trolling for partisan causes.
After the election, Righty circles are naturally engaging in some soul-searching, finger-pointing, and bickering.  Some of this is unproductive venting, but it's also the start of the process of working out how to move on and improve, and there's no time to waste.
My conversations with fellow Righty operatives and bloggers have spurred me to suggest several ways Republicans could simultaneously make the party more attractive (or less repulsive) to voters and achieve more conservative results.  This post is about immigration and reversing the trend of Hispanics rapidly abandoning the GOP; the next is about gay marriage; and the final post is about entitlement reform.
First, let's dispense with the notion agreed upon by many on the Right: seal the border first, so that whatever follows is more controlled and orderly.  This is an expensive fantasy.  Conservatives need to apply their skepticism of huge, complex, market-distorting government plans to every issue surrounding immigration, starting with any plan to spend tens of billions of dollars on thousands of miles of fence, surveillance, unionized government employees, and a verification system forced on every employer in the country.
It's a joke that the Republican Party, which is practically defined by marriage, babies, and mortgages, holds at arm's length a whole demographic (Hispanics, especially foreign-born) that tends to be more religious, marry younger and longer, and have larger families than the average American voter.
Mass immigration could work for the GOP if the GOP went with the tide instead of trying to stop it.
If Republicans want school choice, they should have natural allies among those who are religious, have large families, and see their children suffer under the worst public schools.  When you hear complaints that Hispanic immigrants don't speak English, suggest vouchers and education savings accounts for private-school English language instruction.
If Republicans want to revive farms and stop the population drain from rural areas, make legitimate cheap labor more available: open up a bunch of farm worker visas.
If Republicans want to cut the cost of new housing so that young people can form households and families, make legitimate cheap labor available for that too.  Heck, why not try to break various trade unions by inviting enough skilled immigrants to swamp or bypass their system?
So the entitlement system is a problem?  Yeah, Milton Friedman famously said you can't simultaneously have free immigration and a welfare state.  Shouldn't the Republican response be "Bring on free immigration"?  If math dooms Medicaid and the subsidized industrial-age hospital model, why not make the math even harder?
Conservatives have longed to shift taxes away from production and toward consumption.  Nobody wants to remove labor tax wedges (AHEM: the payroll tax) as much as someone in a labor-intensive business, the kind that tends to thrive when there's a lot of cheap labor available.  That goes for both employers and the employees whose compensation is tilted toward wages rather than benefits; we know it suppresses the Hispanic savings rate.  And the payroll tax, of course, helps to maintain the accounting fiction that SocSec and Medicare are like savings.
Now, about the security problem: is it easier to pick out a genuine security threat in the crowd if everyone just has to pass a security check, or if hundreds of thousands of people are trying to cross the border undetected because the only legal route is a seven-year byzantine process?
Heather Mac Donald at NRO offers a potential counter-argument: Hispanics are more suspicious of Republicans for supporting class warfare than for opposing immigration according to a poll (from March 2011), and a majority favor gay marriage, so they're not such a conservative bunch.  But:
Immigration may not be most Hispanics' top concern, but it isn't trivial either.  And because politics is so tribal, there are many ways to alienate a group without actually disagreeing on policy – many of which Republicans blunder into when discussing immigration.
Finally: social issues.  Mac Donald points out that a majority of Hispanics favor gay marriage.  I'll argue in my next post that conservatives should proactively embrace gay marriage, which should resolve this issue nicely.